In memory.
February 14, 2012
A picture says a thousand words, but being able to reminisce in a memory is absolutely priceless. Being able to fully engage yourself in that moment that used to be is the closest thing to reliving a moment as possible. To taste, smell, see, hear and feel what happened that day. Sometimes it's pleasurable, but in my case it is painful.

May 14, 2010 was pretty nerve-racking to begin with. It was my first year taking a chorus class and definitely my first time ever singing a solo in front of a large audience. My stomach was doing flips, to say the least. After the show had ended, I was ecstatic to finally be finished. Sadly my parents couldn't be there to witness my amazing feat of stage fright. I immediately called them after. I could tell they tried to be excited for me, But just couldn't be. I couldn't tell what was wrong, so I just decided to ignore it.

I had called my boyfriend to come pick me up and I talked about it all on the way home. By the look of his face, I could tell something just wasn't right. I kept asking what was wrong but he kept blowing it off like it wasn't a big deal. We made a pit stop at my dad's restaurant before he was to take me home. We went in and hung out for thirty minutes when my phone rang. It wasn't a number I had noticed, and although my boyfriend told me to ignore it, I answered it anyway. Through the tears and screams at the other end of the line, I heard the news. My best friend Kayla had died about two hours ago due to an intentional overdose of drugs. My stomach and heart dropped. I dropped my phone and it shattered into a few pieces on the floor. Jeremy looked at me, and I could tell he knew. I couldn't move. I couldn't breathe and I definitely couldn't think. I burst into tears. One of the waitresses came out to me, hugged me and asked what was going on. When Jeremy told her, the expression on her face was unforgettable. I could feel my own pain on her face. He soon after led me to his car and told me he was going to take me home. The waitress at the bar called my dad and told him to be prepared that I now know. I was walking up the driveway, when the front door of my house flung open. My mom and dad were standing there. That's the moment when I really knew that it was real. I walked through the door and immediately fell to my knees. The next few days drug on and the funeral came and went. When I think of Kayla's death, the moment I always will remember the most is walking in the door that night. The moment when I realized the biggest part of my life was now gone. When I realized my life was now forever changed because of that night. When I realized a part of me and had just died too.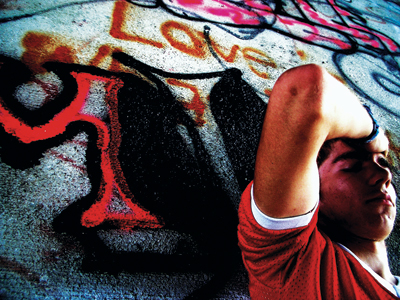 © Sindha A., Champaign, IL