Four Thousand Miles
August 23, 2011
We're lying on the couch, The Blind Side playing in the background, but neither of us are paying attention. Now you're playing me When I Fall by Barenaked Ladies and singing along, my voice an undercurrent to your melody. Our fingers are folding perfectly together, the spaces between them like matching puzzle pieces. I'm looking into your eyes, their green beauty completely mind blowing. We're running around on the beach, our toes sinking into the sand and getting in our toenails. But we don't care. The sun is setting and the night is perfect. Miscommunication about one of our meet up spots, we both wait at identical subways for an hour, both of us refusing to leave until we found each other. Even with me cellphoneless, we do, because you check every single subway for me. Sitting on a bench, me telling you about the memories that haunt me. Holding each other on the couch. There's tears in your eyes, and they make me cry. You give me your t-shirt and hand me your favourite necklace in the darkness. It weighs a hundred pounds around my neck. One last hug and I try to absorb every molecule of you into my skin. As we pull away, I tell you that I'll see you soon, just to try to ease the pain that 'soon' means four months. I let go of you, walk out your door, down your steps, and up your street. And then I cry.
The tears don't come that often. Because it's a weird mix, the emotions you put in my heart. The crazy happiness, the happiest I've ever been with anyone. The love. And the pain seems like it's just part of the package, something I'm willing to live with to be with you, because it's a million times less than the pain of losing you permanently. So I'm willing to have sleepless nights without you, clutching on to your t-shirt and twirling your necklace around my fingertips.
Your lips will always be the ones that belong on mine. Your heartbeat will always be the most comforting sound to me. Your voice will always be my heaven. Your dreams are my dreams; your fears are my fears. Your battles are my battles, and I will fight them with you with every inch of strength that I have. I'm prepared to fight for you because this feeling is weird. I've never felt it before, and it scares me. It's a pull in my heart, a magnet to that beating sound that is your life, my life. It's the epitome of bittersweet, but the sweet is worth the bitter. Because I love you.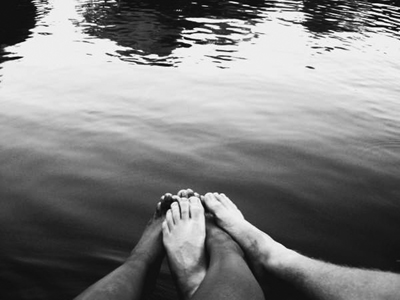 © Michelle W., Ada, MI