Waiting
MAG
August 22, 2011
It was evening on a Saturday and I was running late. Flustered, I clutched my bag with my free hand and darted across the narrow, crazy streets. Fair lights bubbled up like rainbow sparklers in front of my eyes. My feet, clad in navy ballet slippers, squished across the grass and into the midst of the tourists in belly tops and braided hair adorned with flowers. As I passed our meeting spot (he wasn't there) and walked up the aisle between the rows of fair rides, I saw his Mohawk hair bobbing in the crowd, his head searching. I was twenty minutes late, but he waited.

In long-distance relationships, it's all about waiting. Waiting for an Internet connection. Waiting for a letter, a postcard, a phone call. Waiting and saving and hoping for a plane ticket. You spend hours of your life waiting, traveling, missing. But in the end, it's worth waiting for something as close to perfect as a 75% off sale at River Island. Honestly, the fact that I know he will wait for me is enough to staple my heart together until I see him again.

I've never been a strong believer in love at first sight. I criticize friends who fall head over heels on the first date, and bathe in bitterness about love songs and Shakespearean plays that always seem to have a tragic ending. But something clicked with Connor. Something clicked for both of us, like a latch falling into place or that cracking sound when a tennis racket hits the ball. Spot on. Perfect. Even though I've always preferred older guys and he's a year younger. Even though I wanted a summer fling and got true love. Even though he's the nephew of the wife of my uncle, and that's undeniably weird. Even though I tell myself I'm done with falling in love, I'm not.

It took me five days to fall in love with him. Head over heels, irrevocably, painfully, heart wrenchingly in love. And want to know the funny part? I loved every second of it. He loves my smile and he loves my family and he will wait for me. He makes me pinky promises and kisses me in the rain. With a rainbow and a sunset, no less.

This picture-book-perfect love is a new experience for me, but I can't say I don't like it. I deserve devotion. I deserve this boy who will give his heart to me, and he deserves me. He deserves to hold my heart the way he holds me, because I know he won't let go without a fight. Our hearts fold perfectly together like origami paper, and our hands are perfect puzzle pieces. And when I look into his eyes, I trust him.

I want to spend more evenings on the couch with him, just sitting there in perfect silence, because I've never been happier with anyone. These butterflies are crazy; every time he breathes, my heart jumps
a beat.

Four thousand miles is a long way. An eight-hour time difference is difficult, to say the least. Internet connections are unreliable and post offices go on strike. Four months between visits is a long time to wait, and a year is a long time to wait for him to move here. But in the long haul, what is a year? It's a blip in the flow, an ebb in the tide. It's not enough to fracture this love.

Yeah, I miss him so much it's hard to take sometimes. I have to let myself remember our time together in mediated gasps, in intervals and stretches that aren't long enough to cause my heart any further damage. The one thing that keeps me believing? The fact that he makes me so happy that missing him doesn't cancel out the happiness.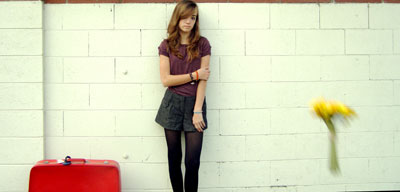 © Austin K., Studio City, CA