Songs, Silliness, Strangers, and Smells
July 5, 2011
What is riding in a van with a bunch of teens like? Hmmm….
Riding in a van with teens all day is different than traveling with just your parents or all adults. How is it different, you may ask? Well, let me tell you about my experience.
All my life I've been home schooled, and I'm not usually around teens my age other than at church, because all of my siblings are older than I am. Last December was my first time to ride up to winter camp with my church youth group. The camp is situated in the mountains of Colorado, making it a fifteen hour drive.
Most of the kids in the youth group also sing in the youth choir, so it was almost like riding in a choir van, because pretty much everyone in our youth group likes to sing, including me. Unfortunately, though, on the way up to camp I was just getting over a nasty cold that had taken my voice, which I was only starting to get back. I couldn't sing along with them, which was very disappointing. I mean, I could've sang, but I chose not to since I would've sounded something similar to that of a dying cow. However, I did enjoy listening to them sing Veggie Tales' songs and songs that we had learned in youth choir. I was clapping along with the peppy tunes even thought I would've preferred to be singing. Well, you know what they say: when life gives you lemons, make lemonade!
It was quite an interesting adventure when we stopped for lunch at a Sonic. Fun fact about myself: I'm quiet, and hang around my parents a lot, usually trying to be as mature and polite as possible, making sure to never be obnoxious. So when I was walking through the Sonic parking lot with teens who were goofing off and being well, teens; I become really self-conscious and felt somewhat funny. I mean, I'm not really used to that kind of behavior, and I felt even more awkward and embarrassed when we were ordering outside at the booths and my friend starts ordering in this really retarded and goofy sounding voice, which by the way didn't get her food, but got her hung up on! Now, that was actually kind of funny!
Other adventures along the way included when we stopped at a gas station and were waiting for all of the teens to come back to the van. Two complete strangers came up and started talking to us and asked if they could pray with us, and we said "yes". (Well, of course we did, we weren't going to say no!) It started out like a normal prayer, but then came the words, "Just rock this van from side to side; I can dig it, Lord!" I almost lost it trying not to laugh, because, well, I've never heard a prayer like that before! Maybe those people have a different way of praying, but it caught me off guard, and when everyone was back in the van we burst out laughing while we tried to explain what had happened!
Eventually I gave into my immature side when everyone was asleep. You see, try as I might, it is utterly impossible for me to go to sleep in a vehicle, and when everyone else went to sleep, I got bored! So I entertained myself by waving at the people who drove by us on the highway. How original, right? But I became a little slap happy and giddy when someone waved back. Most people either didn't see me, or looked at me like I was from another planet. When the teens woke up, though, I went back to my quiet self again!
All in all, riding all day in a van full of teenagers wasn't so bad, apart from the farts which no one claimed and lingered in the air for minutes until I felt like I was about to pass out. Oh, and the heat that was blasting from the vent so hard I felt like I was suffocating and had to shove my winter coat and blanket over the vent to keep it from blowing on me.
There you have it, now you know what riding in a van with a bunch of teens is like. I can't wait until summer camp!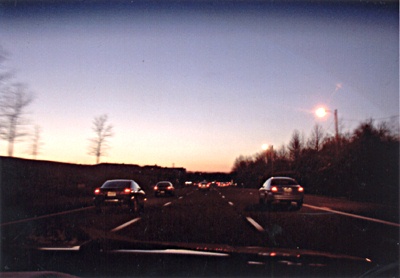 © Carolyn K., Toms River, NJ