Love?
June 6, 2011
For a long time, I thought love didn't exist. Not in the way I believed it should, anyway. I thought it was just one four letter word among many, the curse people kept in the dark. And to me, it was a curse. Who wants to love? To give your being to another, your tender heart in their rough hands. There is no love. There is pain, there is lust, there is frightening dependence. Love is patient, love is kind. Love is deadly, love is blind. Love is too many things to be.
I saw my parents, happily married. Is it love? No, I thought. It's comfort. Shared interests. Reluctance to change.
I saw my friends, clinging to their boyfriends, their eyes gleaming and their mouths wet. They claimed it was love. But I knew better. It was lust, it was youth, it was desperation. If there was such a thing as love, it wasn't this.
I turned on the radio, and heard the warbles of men and women, their ecstasy, their agony over love lost, love gained, love unreturned.
I listened to the songs. Love at first sight, at first word, at first kiss, at first f***. Love was too flexible a thing. It was everywhere, therefore it was nowhere. Love cannot be so big, I thought. Not the right kind of love.
So for a long time, love was just a word. It concluded family phone calls, was reiterated to the right men. Used flippantly in letters, emails, texts.
And then one day I realized, there is no one love. It's not one huge, all-encompassing feeling.
There are many kinds of love.
There is grudging, unconditional love; the way you despise your parents for being the anticlimax of your life, yet their embrace brings endless comfort.
There is fleeting, adolescent love; the beaming smile you gave them on first glance becomes smaller with each passing day.
There is unbelievable, suffocating love; it fills you up and drowns you until you can barely breathe, until you need to feel their touch, their breath, the sound of their voice in your ears.
There is hurtful, hateful love; you eat away at each other, wishing to empty the other one out first. But it never happens, because love absorbs hate like soggy cornflakes on a Saturday morning, a bottomless bowl of fights and shouts and tears that you don't want to stop.
There is shallow, superficial love; the way you love a poster, or a new pair of shoes. Or someone who is beautiful but will never be anything more.
There is pensive, idealistic love; the way you love movies, or books, or anything that you need to think to remember.
There are too many types of love to list and explain. But there is one kind of love that is indefinable.
It's how you love a friend. Platonic is too flat and technical a term to describe this kind of love; it is both soft and hard, the deepest kind of love but also the most frail. It masquerades itself as unconditional at times. But it is not. It is a love that needs love to live, a love that doesn't happen but is made to happen, is built. But where does it begin? What makes a friend? Shared interest? Similar exterior?
And even when the friend is made, the pieces in place, the check in the box, where does the love begin?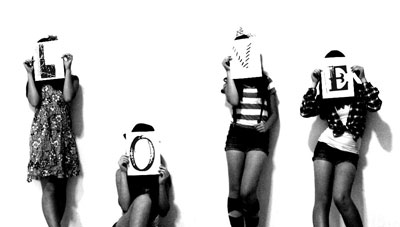 © Yoko K., Madison, WI