"You, My Girl, Shine"
May 18, 2011
"You my girl, SHINE." Ally Hunter, a student at Miami University, said this quote to me during a tearful goodbye this past summer at the National Student Leadership Conference at University of Berkeley, a week I will never forget. There, Ally guided me and 11 other students from across the country in a path of discovery as we learned what it meant to become a leader in just one week. We were complete strangers at the beginning of the conference, a group assembled from different parts of the nation, even the world, and yet we had a relationship beyond friendship on the last day. And Ally Hunter was the only one responsible for this beautiful union.

Ally challenged me to question myself and everything I believed in, which was the most pivotal step to me becoming the leader I am today. This was an extremely difficult process, but she helped me through every step. Although she taught me many things about being a leader, the most important lesson she showed me is how to speak from my heart. Whenever I do this, I feel like I'm shining. Seeing eyes trained on me, and knowing that what I am saying is full of nothing but truth is a feeling that can never be replicated. It is empowering; I can never say I am a follower. I am a natural leader when I follow my heart.

Because of Ally, I respect, I listen, I love. All of these qualities I never fully realized the meaning of until she showed me this summer. Respect is speaking from your heart. Listening is actually caring about what someone is saying and not thinking about anything else except for them. Love is an unrestrained connection between people that can never be broken. Loving is habit now; it is not exclusive, it does not like to be restrained, and can be expressed in an infinite amount of ways. From a simple hug to holding someone while they pour their heart out to you—love is the most beautiful thing in the entire world. "To lead someone you have to love someone. To save someone you have to serve someone." Ally shared this quote with our group on the first day of the conference. I was confused at first, but Ally helped me embrace this precious realization during her short time with me at Berkeley this summer. Her heart-to-heart talks in the hallways were inspiring; her positive attitude in a group was contagious. After being with her for one week, she taught me how to shine using only my heart. A beautiful heart is inside of everyone, they just need to open it to let it shine, and its effect will be blinding.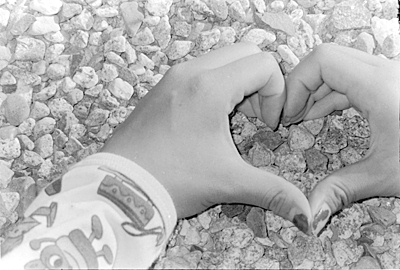 © Caitlin T., Marblehead, MA