An Experience I'll Never Forget
April 29, 2010
Have you ever had something so terrifying happen to you that just the thought makes goose bumps pop up on your arms as the hair on the back of your neck sticks straight up? It was a sleepover gone bad - a simple matter of horrible timing and not-so-good luck…

I awoke to the sound of my name being spoken softly. My eyes fluttered open and standing in the doorway of my room was my mom. She waited patiently for me to regain consciousness. I blinked some more, trying to clear my vision as she continued, "Kim and I are going to work for awhile. We'll be back around noon." I nodded and rolled over, closing my eyes as the door clicked shut.

I fell asleep with no trouble, but I was awoken once again by a sound that wasn't quite as pleasant as my mom's gentle voice. It was banging – very loud banging. My eyes popped open and it took me a moment to register what my best friend Crystal was saying.

"There's someone at the door." She murmured. Moaning at the thought of having to step out of my warm bed half awake, I got up and made my way to the front door where I peeked through the peephole. There was a boy with his back facing me, and he was walking away. I thought nothing of his presence and decided it probably wasn't that big of a deal. Little did I know, that in just a matter of a few minutes, that boy was going to be in my house – uninvited. But I went back to bed, despite the remembrance of his persistent knocking. And then we heard it: the scraping of the window's screen being torn apart in the bedroom next-door, and at least two guys talking.

"Just jump, jump!" One boy faintly said as we heard a thump.

"There's someone in the house…" Crystal whispered, pulling the blanket up to her chin.

"I know." I replied even softer, covering my freezing legs with the blankets I had pushed off earlier as we sat in the still silence, waiting...

It seemed like we sat there for ages, just listening to the scratching of my T.V. being taken off of its stand and the sound of the criminals knocking over picture frames, which held wonderful memories. We didn't know what else to do as they took what they pleased from the family room. We just…sat, and didn't say a single word to one another.

My muscles froze and I felt the color leave my face as I heard the sound of my bedroom doorknob being turned, and before I could even really process what was happening, there he was – one of the culprits! I did nothing but glare at him as he jerked his head around the room before finally meeting eye contact with me. I looked at him; he looked at me, then looked at Crystal and slammed the door, yelling, "There's girls in there! Let's go!" I released the breath I had held when he had opened the door earlier and looked at Crystal – she was already looking at me though. Relief was apparent on both of our pale faces.

The next hour or so flew by quickly. Crystal and I had called the cops and then my mom, and were just glad the criminals weren't the violent kind. We sat on the front lawn and ate pizza and laughed and retold the story a good 500 times as we waited for CSI to come and scan the house for fingerprints. The cops were too late to find the guys who had taken some of our belongings, and CSI found nothing but a barely visible print that had been made while the imprinter was wearing gloves. So, all in all, it was an interesting experience that I'll never forget, and I'm sure Crystal won't either. I'm a little disappointed that the police didn't catch the guys, but I'm sure they'll have to face the consequences of their actions later.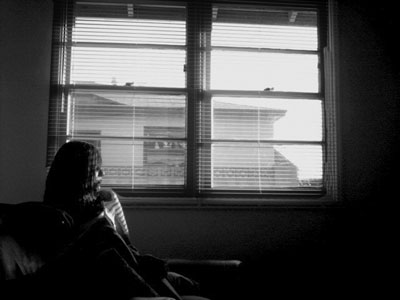 © Roxana R., Tustin, CA