D-Now Weekend 2010
April 24, 2010
Over the weekend, I went to a function with my church; the function was called Disciple Now, or D-Now for short. The theme for this weekends D-Now was "Live Love." Basically, a group ranging from six to twelve people (my particular group consisted of eight: Jacob, Caleb, Tyler, Lucas, John, Cameron, Michael, and I) went with a youth leader and stayed at a host's house over the weekend. While we were there, we did many things including, but not limited to, bible study, group activities, group worship, and committing general teenage mayhem.
In all honesty, there was one activity in particular that made my weekend. This activity was called, "Spread The Love," and it consisted of leaving the church and going out into the community to talk to people about God. We discovered this on Saturday shortly after lunch, and let me be the first to tell you, we were scared. After the announcement, there were collective gasps from the 143 teenagers assembled, and many of us bowed our heads to pray. We just couldn't believe it; they were sending teenagers on their own into the community to talk to people about God and his love! Our director told us where we were supposed to go, and, on the way out, people said things like, "May God show us the way," which blew my mind. I was totally shocked because where I live, you never hear things like that.
The first thing we had to do as part of our challenge was ride the city buses, which many of us don't do out of sheer inconvenience. The D-Now students split between four buses and headed off to their locations. My group's location was downtown, which made everything all the worse. Following our leaders and hopefully the will of God though, we faithfully loaded the bus and headed to the absolute worst part of Fayetteville. Once we arrived at our destination, we split into groups of two so that we could cover a larger area.
Tyler was my partner, and we headed off towards the park. Along the way, we ran into a man who didn't give us his name, but instead started talking to us about his life. I won't share his personal information, but he had a very trying life. After he was done speaking about his hardships though, he did something that amazed me: he pulled a cross from under his shirt and showed it to us saying, "It's ok though because this, this right here is my boss." This was amazing because here was this man who had endured so much, but he still loved God and followed His word unquestioningly.
The second person we talked to was named Leondro. Leondro and his son were sitting at a bench together reading a book when we approached them. After asking if we could pray for him, he said, "Well, you should never turn down a prayer," and so we prayed. He led us in prayer and said, "God, please watch over and protect my family and these young men. May we never fall from your grace. Amen." It was powerful because he not only accepted our offer to pray, but he led the prayer himself!
The third person we talked to was named Timothy. Evidently, we were not the first people from our church that he had talked to, for he said, "Oh look! More brown shirts!" (We were all wearing brown shirts that said Live Love.) "Yes sir," Tyler said, "is there anything that we can pray with or for you about?" He ended up declining the offer, but instead said, "Would you be willing to sing me a hymn?" Neither Tyler nor I knew any of the churches hymns, and we told him this, but he said, "That's ok. I'll tell you what we can do; I will lead you in Amazing Grace. Sing with me." He proceeded to sing a very loud and off key version of the song. He may not have been the best of singers, but he sang with all of his heart, so this made us feel good.
The final person that we talked to that really made a major impact on Tyler and I gave us a name, but I unfortunately forgot it. I remember seeing him from across the park, and feeling an urging to go talk to him. I motioned to Tyler, and we set off towards him. Upon learning who we were, he told us that he had just been released from jail because the night before he had been arrested at a party. Out of his back pocket he pulled a yellow sheet of paper with information detailing his release. This man was, at the very least, severely handicapped (and maybe even mentally handicapped too.) We talked for about five minutes or so, and then asked if he would like us to pray for him, to which he responded, "Yes. I ask that you pray to God that he may give me the strength to return home safely." To return home safely, wow. Even as the words left his mouth, I saw how incredible they were; here was a man who could've asked for God to heal him or to help him in his trial, but the only thing he asked of us was to pray that God give him the strength to return home safely. Incredible. His surprises were not over however, because he asked us two questions from the Bible. These were what did God create before man, and where was Jesus arrested. Here was a man who had just come from jail and he was asking us about the Bible. It was truly amazing.
God truly had to have a hand in this weekend or we would not have experienced all that we did. Never before have I been so sure that there is a God and that He loves us as I was this weekend. We expected to go out into the community and talk to an unbelieving crowd about God, we even expected to get ridiculed and maybe become a martyr. The one thing we didn't expect though was to have people on the street talk to us about God and tell us how He has been in their lives. This was truly an eye-opening experience and one that I will always remember.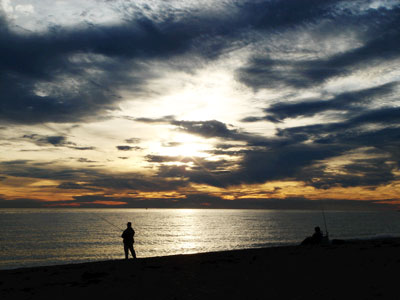 © Sarah C., Hillsdale, NJ