Much More than a Purse
January 11, 2010
Rarely has any handbag seen so many memories in the making, as my beloved Bungalow 360 purse, and even rarer still, have so many memories been formed around such a handbag as mine.

I knew that she was special from the very first time I saw her, sitting patiently on the shelf of a charming, little boutique in Manzanita Beach. Her pallid skin, painted with jade trees, engrossed me from where I stood, across the room. As I approached her, she practically leapt from her perch, into my arms, and I was sure that I would never look at another purse for as long as I lived.

She kept me company as I wandered the shore line, for the next few weeks, humming quietly to myself, and watching the waves caress the pastel sand. We paced that beautiful shoreline so many times that month, that I'm convinced that the grooves I made in the sand from my tired feet are still there today.
When the time arrived for us to return home came, I loaded her spacious insides with dappled sea shells, and battered sand dollars. Most of the sand from my treasures fell off before I placed them in her, and the sand that remained, still lies in the furrows of her interior these days.
We have had many exciting moments, my purse and I. She was there on the first day of my sophomore year, slung over my shoulder, looking smart against the magenta fabric of my new tweed jacket. She sat uncomplainingly with me through all of my classes that day, looking forward to the occasional unzipping and reapplication of lip gloss that would give her a break from the monotonous lectures from my teachers.

She was there for every choir concert, journalism meeting, and movie that I attended, happily holding whatever music sheet, notebook, or candy bar I gave her. She kept track of my spare change, pens, gloves, books, make up, and cell phone diligently, as if nothing else in the world mattered to her. Whenever I need something kept out of the rain, or out of harm's way, I can always trust her to keep it safe, and protected.
No other possession of mine has ever served its purpose more fully than my Bungalow purse, and I expect for the two of us to see many more years together, and make countless fresh memories.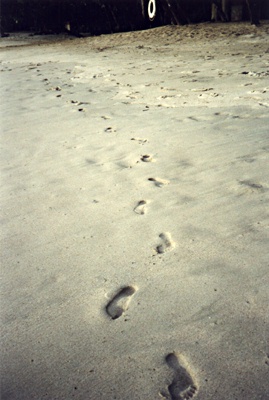 © April W., Rogersville, MO