The Things I Carry
January 11, 2010
There are a myriad of things that I carry with me each day---some are tangible, and others are not. But the things that I cherish most out of all that I have are my dreams.

Night dreams are fickle creatures that rest on my pillow while I sleep, singing sweetly in my ear of things I never can recall. They hum euphoric melodies that paint visions in my mind of years gone by, and things to come, filling the space between secret wishes and truest feelings known only to me.

As soon as morning light breaks forth, and I wake to greet the sun, my surreal minute friends get frightened off and take wing, carrying with them the splendors of the night before. Throughout the rest of the day, I carry with me the essence of dreams gone by, like words beyond the tip of my tongue.

I carry not only what I dream at night, but also the dreams that pass through my mind all day- the inner workings of which, are sometimes found to be as intricate as a painter's masterpiece, or as lighthearted as a child's drawing.

Daydreams are oxygen to my shriveled lungs, when I've suffocated from life's mind numbing routine. Sitting in a windowless room on a rainy day, feeling compressed amongst the bland grays and browns that surround me, I put that far away look upon my face, and drown out the mumbling that makes elongated school days crawl by. With a pen in my hand, I let my mind take control, sketching words that could never be spoken, illustrating unutterable sentences concerning the corners of my mind, and the depth of my shadow.
And lastly, I carry my dreams and goals for my future, the things I'll achieve, being a mother, a spouse, and a friend. How I wish to set the world on fire with the things that I'll say, and make this lifetime one worth living. There are so many possibilities, so many doors to be unlocked in my future. Will I be a journalist, an author, or a nurse? Will I make my parents proud of their daughter? There is nothing so rare, as a girl who keeps her head held high- will I ever become someone like that? I want to travel the world, examine art at the Louvre, and teach my children what life's all about. I dream of tomorrow and opportunities to come. I set goals and then meet them, so I can become the best person that I can be, and earn the happiness that comes with success.
Countless hours have been spent speculating on what college I'll attend, what I will major in, and my career choice. I want to be ready when the time comes after high school, to move on with my life- will I go out in the world and make a difference?
True, I can not hold my dreams in my hands, but they are a part of me, and I carry them in my spirit, in my mind, and in my heart. They set me apart from the rest of the world, pulling me out of the mundane, and planting me into a field of color, in which, I live, thrive and grow everyday. Because of these most prized possessions, I've come to know myself and what I want in life. I have been given eyes to see past what the world expects from me, and recognize the full potential that I have as an individual. There is nothing more important for me to be carrying through this life than my dreams. If I always keep them close, they will never be forgotten, and someday I will look back at my life and smile, knowing that I have lived it to its fullest.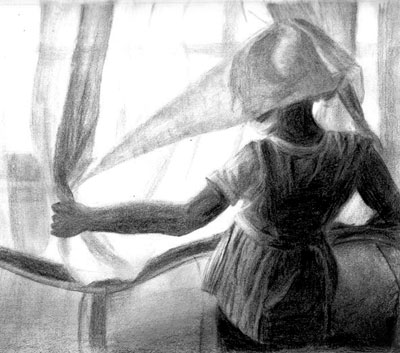 © Kelsey M., Davenport, IA