2021 Kindness Contest: Opening the Door
November 29, 2021

It was late afternoon on a cold December day at the plaza. There was soft, white, fresh snow on the ground as it had just snowed the day before. A harsh, ice cold wind was blowing in the direction opposite of the store and it was significantly below freezing. We usually wouldn't have gone to the store in such extreme weather, but it was a Sunday, and we needed supplies for the week. As we parked in the parking lot, I dreaded the thought of taking my hand out of my warm, fuzzy pockets in order to open the door. Despite the excruciatingly cold weather, the place was full and the only parking space we could find was along the final rows of the parking lot, which meant a long walk to the store in the freezing cold weather with the ice cold wind blowing in our faces.
We left the car and started the walk to the store. As we were walking, I tried to cheer myself up by hoping that maybe there would be an automatic door for us to enter through. My hopeful thought was wiped away when we got closer and I saw the metal handle in front of the door. As we were walking, a young lady walked in front of us. We assumed it was unintentional, since she was lucky enough to find a parking spot closer to the store. She got to the door a few seconds before we did, but, instead of immediately walking into the door, she held the door open for us as we walked in. Even though I was extremely relieved that I didn't have to take my hands out of my pockets and expose them to the less than ideal temperature outside, I gave her a small, muffled thank you and moved on.
While we were shopping, however, the small, but kind thing the lady did replayed in my mind. I wondered why she didn't instantly enter the store. Afterall, it was a very cold day and no one wanted to stay out longer than they had to, especially to open the door for a family they didn't know. After all our shopping was complete, and we started heading out of the store, I noticed a family behind us. The lady's actions replayed in my mind once again, this time to remind me how much I appreciated it when someone held the door open for me. So when we got to the door, I realized I learned a lesson about kindness as I held the door open for the family on the way out.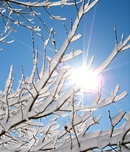 © Anonymous