Silly Girl
March 12, 2021
Silly girl, complaining about taking the bus to school and having to go grocery shopping with mom. How immature to be faking sick so you can miss class and staying up late completing assignments you procrastinated doing earlier. Stupid girl to stress over an irregular sleep schedule due to late practices and get frustrated over not knowing what to wear to school. Oh how naive you must be to complain about things I dream of. Unlike you, I have reason to be upset.

I wear pajamas to school because it is online and if I get dressed, I have a mandatory accessory that covers my nose and mouth. My mom refuses to take me to the grocery store because it increases my family's exposure. Kids my age have irregular sleep schedules, not because of sports, but because of how difficult school has become now that we have to learn it all on our own. No one bothers faking sick because more and more people fall to the disease each day. Your struggles couldn't hold a match to my wildfire of challenges I face each day, but how would you know that?
I think about you all the time, my past self. I think about what you might be doing around this time of day, this day of the week. Maybe you're at a friends house or at a bowling alley. Perhaps you're just doing homework or you just started a new job. Regardless of where you might be, I know you're no longer with me and you will never be able to prepare yourself for where I am now. It's also a shame, you will never get to see how strong I became, how thick my skin grew. A year isn't long, but without you it's felt like eternity. I'll miss you, but I'm saying goodbye. Maybe we'll meet again someday, but this is where I leave you, in the past. Maybe in another lifetime you will learn to be grateful for what you have.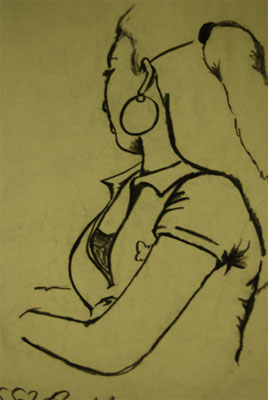 © Janessa B., Kannapolis, NC