Amongst Strangers, I Found Myself
January 14, 2019
I am the product of an affair.
Technically, my mother never knew it was an affair; my father never revealed his estranged wife to her. After I was born, he never revealed my existence to his family. Could it have been because my mother was a white woman? My father, a Jamaican immigrant, would be admonished for dating outside his race. Or was it because he was worried about being deemed an adulterer, an even worse stigma as he came from a religious background? Whatever the case, I didn't know I was a secret until my thirteenth birthday.
Walking into my aunt's apartment brought a surge of emotions. What if my family didn't want anything to do with me because I was half white? How quickly can I learn the inside jokes that my family members held? Should I hold them accountable for all the years they missed out on? My mind whirled as I was introduced to everyone, trying desperately to feel something for my family members who were basically strangers. My family (if I was even allowed to call them that) fell right into their routine of catching up. "Leah, did you pick a college yet?" "How come Bryan hasn't been to church?" "Auntie Zoe, when are you braiding my hair again?" Meanwhile, I was struggling to just learn everybody's names. Oddly, my father stood off to the side, silently. Even odder was that nobody encouraged him to join us. Soon I understood.
The wave of awkwardness finally began to present itself, as we were no longer trying to hide the discomfort in ourselves. One of my aunts, who'd been quiet for most of the morning looked at me with tearful eyes. She mentioned how happy she was for my father to have a daughter, saying, "He's always dreamt of walking a daughter down the aisle". However, she then expressed her anger towards my father for keeping the family in the dark about me, when I needed not only nurturing but an introduction into the Jamaican culture. She ended with an apology for not even knowing I existed.
If it wasn't already hard for me to process everything going on, it had just gotten much more complicated. My heart seemed to fly around inside me and settled itself in my throat, a good thing so I couldn't let out a sob. I began to tear up, yet I wasn't alone. Tears were falling all around, and to this day I'm not sure if they felt sorry for me, themselves, or all of us.
For a long time, I hated existing as a stereotype of a black child without a father. I hated looking at my mother, knowing this life of being a struggling single mother with a child was not the life she had dreamt of. I hated feeling like a mistake. I hated not knowing what it meant to be Jamaican, or biracial, for that matter. I hated not knowing myself yet being labeled regardless.
From this experience, I oddly admire my father. It doesn't make up for all I have missed out on, the empty promises but he had owned up to his mistakes in search of forgiveness. I have learned from this experience more about what it means to be biracial. Can I still consider myself Jamaican even though my first time trying curry goat, a traditional dish, was not until my teenage years? Even though I grew up unaware of holidays, practices, all things that made up the culture? I've become aware that no matter how much DNA you might share with a particular ethnicity, you won't feel truly connected if you did not grow up with that culture's customs. In spite of this, I still find it amazing that whenever people ask me about my race, the first one I say is "Jamaican". Is it to shock them, since I have such white features, or because I yearn to feel like a "true" Jamaican? I'm still figuring it out.
I believe this event has shaped me into becoming a more understanding person when analyzing someone's actions. When confronted with making a judgment on somebody, like I did my father, I ask myself what I would have done. I have realized that I am more than a stereotype and far from a mistake. I am determined to prove that I'm here for a reason by utilizing my talents to benefit those around me. I have grown in not relying on my parents and families to tell me who I am, but I have comprehended and exercised my integrity to find myself.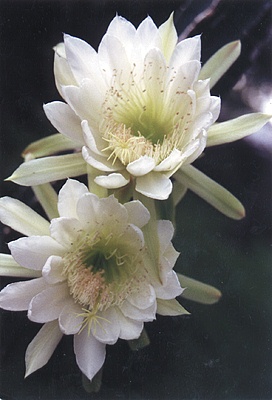 © Lindsay T., Vernon, TX