Let Fate Make Our History
July 5, 2016
It was a beautiful summer night. Stars are scattered up the sky, shimmering and giving light of the dim night. I decided to go out and let the cold breeze touched my skin. I saw you one door apart, you were looking at the stars like it was a lifetime treasure of yours that could make you feel better furthermore. As I looked into your dark eyes, I can guess that you would probably the cause of my heartaches.
He was once my neighbor. The boy next door that has no interest in anyone's life. He was building his own tranquility. His physical features were almost perfect, an epitome of perfection but the way he looks was reversible of his attribute. Since that day, I have been getting interested to him.
Same cold nights, same situations, same positions where you and I stand apart and let the stars amaze our bright eyes. I remembered playing guitar and you were listening to the tune that made you hum due to its relaxing feeling. I felt butterflies somersaults in my stomach, he was complimenting me with his smiles. I remembered answering my phone calls and frustration carved on your face. Assuming that you were jealous and was spying all night if I have other conversations on the phone. I was happy at that time, you were spying, but was obviously conspicuous at my peripheral vision. I remembered you and me coincidentally having the same hues of shirts. Are we really destined or coincidence tends to just happen?
Once I was hanging on clothes at the rooftop, back and forth from the den while carrying freshly dried clothes, I saw you holding three clip hangers, trying hard to refrain from smiling widely. I feel so much effort through his smiles that is rarely curved to other people. I feel like I am important and has someone that will protect me in this deceiving world.
2nd of May, you were packing bags and baggage and had prepared the car into a living machinery. It was dark and stars obscured behind the clouds. I never say a word. I never talk to you. My eyes were pleading not to let you go. But you yourself neglected my existence at that time. You couldn't look straight in my eyes. I was baffled that things about us will not work out the same way it used to be. You left without bidding goodbye.

The love I was imagining for the both of us are just a dream. You do not love me as much as I do, it is proven through your deeds, you didn't speak nor intend to talk to me. Melancholy creates a portion of my life and is now living inside of me. You left me in a breakdown and a tremendous heartache.
Fate is deceitful, it has the ability to play for one's feelings. It may be trickery but it has the power of making two persons' hearts collide. There are no happy ever afters to an unrequited love but rather, Cupid had already set up one's destiny. We need to deal with reality and let fate make our history.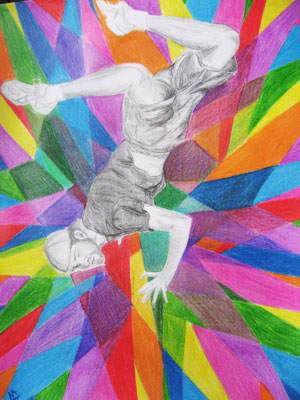 © Carollynn G., Hawthorne, NY