Do You Remember?
July 2, 2016
I remember stretching my hands, trying so hard to catch an empty ball point, blocking its way to where it is targeted, the trash can. The memory could've been locked up with its key thrown away somewhere in a limbo if it weren't for me scraping back the time like muddy earth to uncover the hidden treasure. In this case, the treasure is the blur memory of catching an empty pen with a smack against my palm, the pen that my montessori teacher used to toss to the trash can whenever it ran out of ink.
I was a four years old montessori student when I found out this unique teacher-student bond. I hated school at that time. I was scared of everything that was inside my school ranging from school washrooms to homework, not to mention the unattractive coloring tasks. The only thing that would bind me to my class was my homeroom teacher for which I soon became infatuated with the word 'teacher'. I remember whispering in her ears something I wish I could recall again in my memory. Even though she didn't treat me very differently than any of her students, I always found her different. My eldest sister would pick me from my class everyday in dispersal time, and that is when I perceived my fondness. My teacher would tell her all my stories of how I clutched her kurti's ( shirt's) bottom and would never let go of it. I would stand or sit not even six inches far from her. Whenever she sent the pen flying to the bin, I would catch it midway only to keep it on my shelf as a souvenir. Sometimes, I would slide my notebook out of stack of my plastic-covered copies and check it with that empty pen, pretending to be her.
Accepting myself today as a shy person, I find it hard to inhale that four years old me was courageous enough to ask my teacher her home address. I remember clasping a piece of paper in my tiny hand against the wind, riding in a bike with my parents. My locks of hair were sent wavering in the air just like the paper I was gripping, having my teacher's address written on it. That was the first time I realized she belonged to a totally different religion and community, and so, we encountered some trouble entering in her apartment's building. It looked odd and suspicious to the security guards seeing us entering the building while not being part of that community. Lucky enough, after half an hour or so, my father was able to convince him that it was my teacher-student bond that pushed us so far and brought us there. Sometimes in life, certain things push all the boundaries to make the circle wider.
Several minutes later, we were sitting in her lounge with her and her sisters. I still remember the tea and the biscuits she kept offering me. The memory is so vivid that it feels like I can still touch that tea cup exhaling hot steam right above it.. I can hear the cups clinking with the saucers. It feels as if that biscuit before me is still brisk and salty just like it was 15 years ago. The biscuit is long gone though, and so does that hot steaming tea. But where are those people? There was something else in my hand that night apart from that piece of paper. Something I forgot to pick up before leaving her house and kept it lying on her sofa. It was her empty pen that I kept as a souvenir.
That was first and the last time I ever went to her house. I was no more in montessori and was passed to KG-1. However, I kept meeting her in Assembly. She would always say "You left YOUR pen in my house. I'll bring it tomorrow". I always loved how she said "Your" instead of "My" even though she always knew it was hers in the first place. I never got a chance to hold that pen again. I felt like a failure since I had already lost the only memento I had of her by he time she was right before my eyes. Just a few days later, I heard she was getting married. I never knew it would come to me as sadness before she left the school, before she left me alone in that school . That was the last time I ever saw her face. I hated school then, I hated my KG-1 class teacher. I hated how she made me ashamed of myself. Every time I was being punished for the things I couldn't control, I would cry standing in the corner and would wish for my montessori teacher to come back again.

Fifteen years have passed since then and I'm still writing about her. The time when teenagers of my age were getting crazy over social media, I was searching for her on facebook with my sibling's account. I still search her though, with my account. I don't know her last name. Not even her husband's name. I only type 5 letters 'Seemi'. That is the word you will find in all of my slam books under the title 'Your favourite teacher'. Meeting her again feels impossible, but, just the thought of seeing her again sends a spark of electricity and train of curiousity down my spine. It feels as if an adventure awaits me if I try grabbing it. What does she look like now? Are we still living in the same city? What if we once took the same bus? What if she left the same shop seconds before I entered? Something tells me, she must be having her 39th birthday this year, or maybe, 40th. I know it's far from possiblity, but,if,by any chance, you're reading this Miss Seemi, I want to ask you "Do you remember me?" and most importantly, "Do you still have that pen"?

If I try to be honest, I would love to confess that I never gained anything from montessori except for the fact that I was the only one who was not awarded anything, and that I was the little kid who would always color outside the boundaries of drawings no matter how much I tried, and the fact that there was still something very special about montessori that makes me ignore everything above and be proud of what I gained. 'The teacher I can never forget'.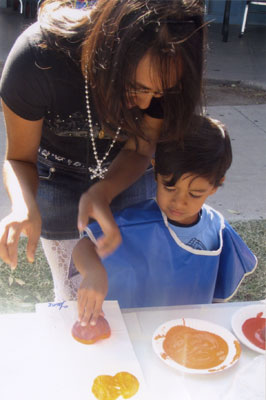 © Melinda M., Phoenix, AZ