I Miss Christmas
December 5, 2015
White, fluffy snowflakes swirl in the wind, blanketing the road and the lawn in front of me. In the twilight, I can see the reflection of the house lights in the old metal gate. Blurred beams of red, green, blue, and orange light up the night. I put up the icicle lights this year, too, because I know that they're Grandma's favorite.

She's in the kitchen, busy over the stove like she normally is this time of year. I can smell the sweet tang of caramel and butter; she's making caramel popcorn because it's just what she does for Christmas. Her beautiful voice sings along with Frank Sinatra's rich melodies on the radio.

The warmth of the wood burning stove in the corner envelops me from the outside, but doesn't reach my core. Watching the snow through the window, I can't help but think I should be feeling at peace because I'm home. Inside me, however, my emotions are swirling like the snow in the wind outside. The Christmas songs reach my ears, but don't touch my heart like they usually do.

The snowflakes stream down the dull window pane, and my tears mirror them as they silently cascade down my face.

It's Christmas Eve. Tomorrow is your birthday. But you're not here to celebrate it with me. The thought makes me shiver in spite of the warmth of the fire.

It was a long, hot summer without you, but I have a feeling that winter will be worse.

Instead of curling up with you in the living room watching Westerns, I'm sitting here on the floor with the lights off. The blankets no longer smell like you, so I just bundle up in my own coat. Your boisterous laugh isn't echoing between these thin walls, so I don't allow mine to be heard. I've resigned myself to the fact that something about home is now empty, even lonely, especially when everyone is here. Because everyone is here except you.

I know that you're in a better place. I know that you're hard at work, and probably loving every second of it. But it's still hard to have Christmas in my heart when my Christmas pal isn't here with me.

So here's to hoping that someone is there to saddle the horses with you and ride over the snowy mountains in search of the cows. Here's to singing Christmas songs at the tops of our lungs, and not sounding half bad. Here's to reading scriptures and reciting our favorite poems. Here's to eating ice cream when it's literally freezing outside, just because we can. Granddaughters don't forget moments like that, because every memory with Grandpa is one that can't be erased.

I glance over at your Christmas tree, the one you set up every year. It's only three feet tall, but it's perfect. In the twinkling lights, I can't help but think that maybe you're out there somewhere, watching me from the stars. Maybe heaven isn't very far away.

I miss the way Christmas used to be. It's not the same when you're not here with me, but I feel a little warmer now that I'm thinking of you. Nostalgia has me hoping that Christmas is spectacular in heaven. Because someone as wonderful as you deserves to have a merry little Christmas.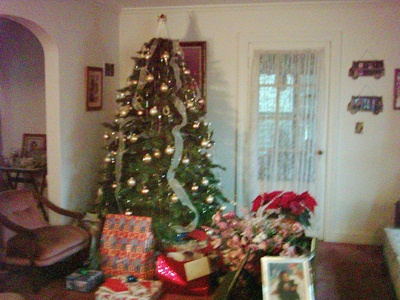 © Alexandria W., Hamden, CT