Space
MAG
June 4, 2015
My dad, he dreamed of space. He dreamed of stepping on the moon, on Mars, reaching another galaxy. As a child, he cut holes in a box and called it his space suit. He pretended the soft, green grass was the rocky surface of the moon. Every day he would read his father's astronomy magazines. Black holes, quantum physics, aliens. The words flashed through his mind as he flipped through the pages, lost in his imagination. He was dead set on being an astronaut.
Unlike many childhood dreams, my father's didn't die in high school. He went through college and the space program. He knew that one day he would step on the moon. And his father would smile and his mother would be proud. She would stand with a tear trickling down her cheek, silently praying that her son would be okay. He met the requirements, he was ready to be fitted for a space suit. He was ready to be an astronaut.
Then the quota was introduced, where only a certain number of people from certain backgrounds were admitted. My dad fell short of the new requirements.
Space. Now he sits in his office, space on all sides of him. Not the space he wanted, not the open air, not the freedom of the stars in the sky. He still dreams of space. He dreams of reaching out to an alien race. He dreams of living to be as old as the stars.
He dusts those astronomy magazines as he stares at them longingly.
He dreams of space.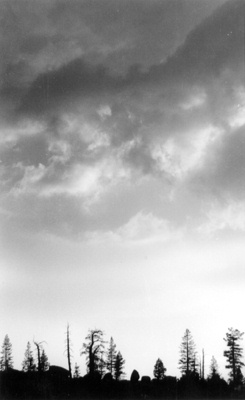 © Steve S., Marblehead, MA