Attention Deficit
MAG
December 3, 2014
"Are you listening to me?"
"Hmm?"
"Can you repeat what I just said?"
"No. Sorry."
"What were you thinking about?"
"My birthday party."
"How old are you turning?"
"Ten."
"When's your birthday?"
"June 15th."
"June 15th? That's over eight months away."
"I know."
"Well then why were you thinking about that instead of what I was telling you?"
It was this conversation I had with a psychologist that eventually led to my diagnosis of ADHD (Attention Deficit Hyperactive Disorder), something I initially didn't understand. There was nothing wrong with me. I was just full of quirks. Daydreaming? That's a quirk. Restlessly talkative? Simply a character embellishment. But you can only have so many quirks until you become a Zooey
Deschanel-type that is neither realistic nor
reasonable.
Having ADHD is like walking up a downward escalator. You work twice as hard as everyone else, and you look like a complete idiot in the process. Not that it would faze anyone. We were ADHD children who were expected to fail. Most lived up to these expectations, letting themselves decay in their own mediocrity.
I would not let myself fail. I was smart. I was capable. I was different. I analyzed the concept of "focus" and forced it onto myself. I was trapped in my room, studying for hours at a time before I was released. I separated myself from all external stimuli to perfect the art of concentration. I turned my brain into a funnel, gathering my thoughts and putting them together. I worked with equal parts determination and desperation. I was looking for something to disprove those four letters that followed me wherever I went. I was trying to give myself hope.
I still am. Over the years I've been tutoring children with ADHD. Every week a group of morose children greet me, looking defeated by life at such a young age. Some are looking at me with glazed eyes, others find that their heads are slowly becoming too heavy for their necks, and a select few express their feelings with Oscar-worthy eye rolls. This seems about right. I start the lesson.
Five minutes later, I turn around to see eight limp bodies draped over their desks. "Focus," I say to them with a clap of my hands. Four students slowly prop themselves up on their elbows, their faces covered with various indentations from whatever they were resting their cheeks on. I clear my throat. Three more awaken from their slumber. One remains in hibernation. I make my way to her desk as the other students curiously watch. With all the force I can muster at 8:30 a.m., I slam my hand against the edge of her desk and a loud crack reverberates through the room. Her head snaps up so quickly it's a miracle she doesn't have whiplash. "Focus," I say again. I try to ignore the stinging crimson in my palms as I return to the board to continue the lesson, keeping a close eye on the class. I will not let us fail. We are smart. We are capable. We are different. We are giving ourselves hope.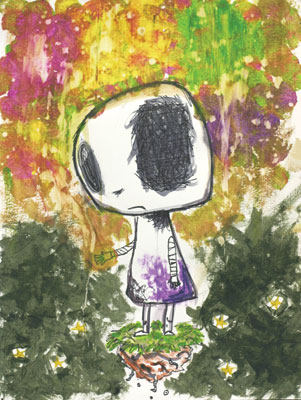 © Ashley W., Port Charlotte, FL