Last Competition
August 11, 2014
I remember that day like it was yesterday. The cheering of our score, the hand holding for our win, and the hugging for our success. Though before all of it, it was filled with events that made that day so special.

The day began with a two mile parade and to the freshmen it was hell, but to me it was a memory from a year ago. The sweat from head strolling to burn my eyes, my back aching along with my hands hold two metal brass cymbals.

Oh, that was a memory.

This season of marching band was an amazing one; from the beginning I knew that this was going to be a great year. The freshmen I had to train were learning quick and never needed our help and that's what made me smile. In the past three months of irritating and madness we've become great friends and because of them I've come out of my shell.

Pictures were taken as the band took off there uniforms and to remember it all, I got an unforgettable one with my favorite freshman and my section leader.

Then the day was set off with my sister speeding to come to my rescue, and take me to my family. The adventure we would take has happened since my eldest was a sophomore in this band and that's what started this legacy.

Spinning rides, funnel cakes, and dip'n dots was the events that came along with my family's laughter and encouragements. I'd have to say goodbye in four hours as they watched me kick some butt on that non turf field. With a serious smirk watching the drum majors and playing my heart out.

Four hours later and the competition begins, while gathering with my other non related family. I find that section I spent weeks to months with.

The thought of being with my section is the best feeling in the world; yeah sure I'm not so close to them but I feel alive in a way with them. I mean since our last Capital city competition we were depressed that we didn't get best percussion, but truly we were waiting for Neewollah and this mattered. We were ready to kick some butt and win our spot, though first we had to compete.

As the band gathered together fully suited around the drum-line we bowed our heads and prayed for an amazing show out of all the competitions we ever had. This was the time to focus and fight off the mistakes we had and prefect them now.
It was sad to know that we're coming to the end, one more home game at our high school and season ended. No more meeting together for sectionals, no more Tuesday night practices, and no playing on our drums.

But our sadness wasn't going to ruin our last competition, so I shared my laughter with favorite section of this season.

My line, the cymbal line.

The clicks went off from the snare and we began to march onto the field with determination on our faces. One more glance from my music in memory to my season, then everything.
3 whistles and we all screamed 'Vikes' loud enough that you could hear from the fair in town.

And we went.

We marched off the field with loud cheers and my favorite cadence we always played. With the smile that hid under my serious grin, I only show how much I was proud of myself.

The band took us to the sidelines setting the instruments aside, we sat and waiting for our awards.

The judging began with parade march. Then it was what we were waiting for, for so long we worked our butts off. Best percussion. That's when the hand holding was thrown to hugging.

We did it and we were so proud of ourselves and everyone and our head section leader knew she had every piece of confidence in us.

Though we didn't win first place, but we got second.

Though it was okay, because even though we didn't win we acted like we did and we sure felt like we won, and that's what makes our band a true family.
In the end it ended with a photo of our drum section and our trophy in a group picture, and another photo with my favorite line of all my four years of high school.
A picture with three guys I consider my close friends.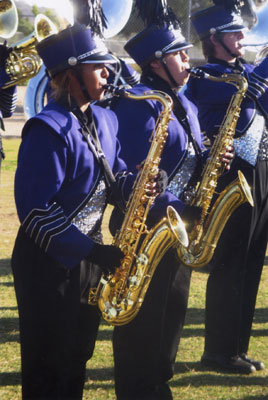 © Laurie R., Phoenix, AZ