My First CD
MAG
May 1, 2014
Everyone knows that one album.
It's the one you starved yourself for a whole week to save up lunch money to buy. It's the one you blasted at 1 a.m. as you jumped around your room or punched your pillow, eager to gush out all your prepubescent angst. It's the one that you had your first kiss to. It's the one that you played during your first night at college, because it makes you feel like you're at home. It's the one that you swear is the soundtrack to your life.
"We're only liars, but we're the best; we're only good for the latest trend."
My eight-year-old brain couldn't even decipher Patrick Stump's poetic lyrics. It was 10 p.m., scandalous for a school night, and I was sitting next to my ancient CD player, listening to "From Under the Cork Tree" for the first time. The three-chord progression plus the accelerated beat plus the lyrics meant absolutely nothing to me at the time. I was confused yet eager to discover what exactly this new genre was.
Before this rite of passage, I listened along to my parents' adult contemporary radio stations (Josh Groban, anyone?), and scratched my head at the suggestion of anything mildly upbeat – or should I say, rock. It wasn't until third grade, while watching Fuse, that I encountered Fall Out Boy's music video for "Sugar We're Goin Down." A music countdown show had rated the lead single as #1 for "Most Likely to Get Stuck in Your Head." And it did.
After I purchased the album, I ran directly to my bedroom, popped the disc in, and pressed play. I opened the booklet and dedicated myself to listening to the entire album single night until I memorized all the lyrics. Honestly, I didn't understand any of it, and to this day I still scratch my head at some of the lines. But the fast tempo of "Nobody Puts Baby in a Corner" urged me to get up and dance, while the melancholic lyrics of "Sophomore Slump" or "Comeback of the Year" made me want to bawl my eyes out. Before Fall Out Boy, I considered music to be a nice background to my everyday life. Slow acoustic songs were the backdrop to car rides to the grocery store or school, but never anything more.
Now I realized music had the ability to make me feel better, to anger or sadden me, or to make me feel like bustin' a move. People come and go, but music will never leave; it is always available as a personal lifeboat. As Blink-182's Mark Hoppus tweeted in 2011, "The fact that music can induce goosebumps, draw a tear, inspire, and connect is one of my favorite parts of being a human."
"From Under the Cork Tree" turned me into a music geek. I dedicated my life to collecting albums, memorizing the names and hometowns of all my favorite bands, and Googling record labels. Fall Out Boy opened a window for me. My mother encouraged me to listen to classical, though much to her dismay, I preferred this so-called emo pop-punk band. In her words, "Punk is not ladylike."
Eight years later, I still shed a tear every time I listen to "A Little Less Sixteen Candles, A Little More Touch Me," and my father still makes horrible jokes: "Fall Out Boy? Do they need a Band-Aid for their knees? Because they fell down?" Patrick Stump, Pete Wentz, Joe Trohman, and Andrew Hurley taught me that it's okay to feel less than happy sometimes, and that I am never alone. "From Under the Cork Tree" is one of those albums that I will always cherish for bringing a new light into my life. It helped me find the cure to growing older, and it's the only place that feels like home.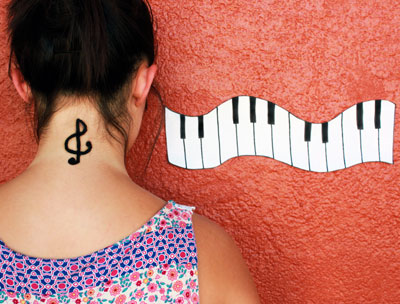 © Lauren N., Denton, TX