Marshalls
MAG
July 19, 2013
Marshalls: It's so much more than racks of knockoffs and kitchenware, useless knick-knacks and sweater sets in a surprising range of oatmeal colors. It represents more than just sale-rack shoes and ugly purses, cheap nail polish and few-and-far-between treasures. Marshalls is an escape, an oasis, a place where I can explore and strengthen my relationship with my brothers, Fletcher and Drake.

When (and this was often the case with three teenagers) my parents are mad and "disappointed in our actions," they pile us offenders into the car and we drive down East Main Road to number 288 in the RK Plaza. The second we step inside the creaky and unreliable automatic doors, our troubles are swept away with the whoosh of McDonald's smelling air that hangs in the entrance to Marshalls. With each step further inside, each new outfit formed, a private therapy session begins. The teen section, The CUBE, is where I drown my worries in acid-washed denim shirts, leggings designed to look like the galaxy, and the chipped blue, green, and white linoleum floor tiles.

Unlike most sibling relationships, I consider my brothers my best friends. I don't have any sisters, but I still feel like I can talk to either of them about my problems, even more easily when we are embedded in a pile of too-small shorts or too-long maxi dresses. With the fluorescent lights flickering above us, dangerously close to going out at any second, my brothers and I laugh, talk, and enjoy each other's company. Yes, without the great odyssey that is finding Fletcher size 14 men's shoes in the vast ocean of Euro-hipster slide-ons, I would still be close to my brothers. But would I be able to talk to them about my tedious skin-care routine, my failure at finding the perfect, classy summer dress in the racks of low-cut, abnormally shaped dresses? No, I wouldn't, at least not as easily. I would tread carefully when ­talking to them, as if mentioning one thing wrong could plunge me into the icy depths of sibling ­rivalry that so many of my friends live in.

At Marshalls, staring at the cheesy canvas paintings and unnecessarily pig-shaped oven timers, I never feel those cold feelings trickle into our conversations, our souls. We are together, one with the universe. It is us three versus the world, and good luck to you if you dare oppose our team.

For Drake and Fletcher, the menswear section brings the three of us together. Pulling out flimsy tank top after scarily short dolphin shorts, jokes and connections are made that we can't find anywhere else, not even tucked away in our "Man Cave," the cement-walled basement we share with two couches and a TV. No, it is the dusty shelves of flat-brimmed baseball hats and sketchy Ray-Ban sunglasses that brought us together. Inner peace and intimacy is found in the junk section surrounded by "As Seen on TV" Shake-Weights and knock-off Polo cologne, and we become friends and confidantes.

With each new pair of Chucks, I get a fresh start, a chance to get everything right. It is all encapsulated in that tan-and-black box, the perfect indent for holding them already there for you in the top two sides of that cardboard magic.

Marshalls gives us, or at least me, a false sense of security, tricking me into thinking everything is fine, and to spend my last $20 of dog-walking money.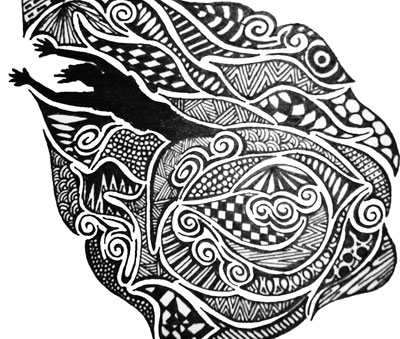 © Caroline B., Haworth, NJ