Our Hands
MAG
June 26, 2013
I sit across from my mother
The red plastic table we share is slick with the sweat of our forearms
Our hands meet halfway across its surface,
piled gently on top of each other.
My mother's smile is warmer than the hot summer sun
and I remember those nights we spent at the dining room table,
all of us, my mother, my brothers, and me laughing together.

I took those nights for granted
I don't think any of us imagined that moments like those would slip away from us
like sand sifting from the creases between fingers
We did not think that our family would only be able to meet like this
a few times a year, broken, not always together.

I clutch my mother's hand in my own,
trace the lines of her palms, her hands that are so soft and thin compared to mine
Hers are the hands of a survivor
that have built bridges over the earthquakes in her life and
wiped from her face the trails of painful memories.
I remember the first time she ever truly cried in front of me.
We had just finished hiking on top of a mountain overlooking the ocean and
grains of salt caught on her tear-streaked face and mine
as she told me
what it felt like not to be able to be with her family for four years,
not to be able to take care of her own goddamn children!

I did not know what it felt like to be my mother.
Every time I think of that day,
I think of her
sitting cross-legged on that rock,
her eyes on the ocean,
as if even in that moment with her arms around me
she was still alone.
As if only the ocean could understand her.

I cannot claim to know what she felt like
But I do remember
the look on my brother's face when he got the call that cold morning in January,
the sound of the receiver hitting the counter
What it felt like to be 12 years old at Estrella County Jail,
faded pink sneakers tapping nervously on the dirty floors of visiting rooms.
I know what it felt like to be waiting for her in the sea of mourning families
with shaky chests and twitchy fingers like my own,
that haze of red eyes, Spanish prayers, and crying children.
I remember my grandmother whispering her prayers fervently
as if it could somehow save her from the words we heard:
Illegals, Alien, Deportation, Papers, Sign, Papers, Sign!

The smell of carne asada brings me back to the present.
My mother asks me what I want to order.
I tell her "anything,"
plaster a smile on my face.
Today I have to leave my mother behind.

I do not know what it feels like to have gone through what my mother has
but I do know the guilt, the hate,
the cotton-mouth frustration of having to leave the one person I love most on this planet
behind
The ease of walking past border checkpoint after border checkpoint
while my mother can only watch.
My mother does not know what this feels like.

But every single painful moment got us here,
in this small family restaurant
with the hot air of ceiling fans
on our sweaty faces
and our fingers locked together,
determined to never let go.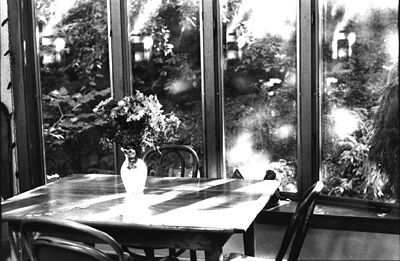 © Bree C., Marblehead, MA