My Magic
April 6, 2013
I recently had a classmate of mine laugh at me for expressing my love of words, writing and literature. We were reading a passage from Emily Bronte's "Wuthering Heights" and I had written on the side of the page, the simplest of words, "beautiful language". My classmate laughed and said that he had never heard or seen anyone comment on the fact that language, words or writing could be beautiful. I was disappointed. How could someone not see how magical and mesmerizing the power of words really was? Why was this so hard for him to understand? But I realized that is was personal, that those things were special to me, and not everyone was going to understand that.

To me language is a kind of magic. Words are my magic. I can use them to change the world, to make a difference. I can create whole lives that never existed before I had a pencil and a blank piece of paper in my hands. With the simplest words, I have the ability to transform someone's life, or perhaps take it away with a single sentence.

Moving around for the entirety of my life didn't give me a lot of stability, so I took refuge in books, stories and worlds outside of my own. Finding the perfect book was as exciting as finding buried treasure. I could sit and read for hours upon end, refusing get up from my perch on the living room couch for homework, showers and even meals. The stories of others allowed me to escape the craziness of my life, even if my refuge only lasted for a few short hours.

At some point in between Fontana, Wisconsin and Melbourne, Australia, I became less dependant on books and more dependant on writing. I had gone through a tough couple of years after being diagnosed with an anxiety disorder and depression, and writing was the perfect way of letting everything out. Being tortured by the girls from middle school gave me the inspiration to write slightly violent and depressing ends for them, but to also escape from what I was going through every day and write myself into a happier school, and a happier life. Australia was a completely different story. My depression and anxiety were being controlled by medication and I had learned to surround myself with kinder, more relatable people. My new friends had gone through similar things as I had, and reading and writing with them was heaven.

The realization that I was in love with words came as I was walking home from school one afternoon. I was buried in a book, one who's ending I did not appreciate, and walking down the sidewalk. Being a lifetime reader, I had of course mastered the art of 'walking while reading'. As I opened my gate and started walking up the pathway to my house, it came to me; If I didn't like the ending to the book in my hands, why didn't I just write one myself? Authors have an incredible amount of power. They have control over the lives of the characters they've created and the lives they've shaped around them. If I wanted to have a book go exactly the way I wanted it to, I'd have to write it myself. My decision in that instant was final; I was going to become a writer.

I read something recently that made me ponder my decision, but in no way regret it. I forget the exact quote that popped up on my stumbleupon.com webpage, but I know it went something like this, "Never become a writer, be a writer." It got me thinking, if I was always meant to be a writer, and if it's what I love to do, I don't need to be employed as a writer, and I certainly don't have to make money doing it, I just need to write. Without words, I would lose sight of who I am, or what I'm meant to do or be. I was lucky enough to find out what I was passionate about from a very young age, and I'm not ready, or willing, to give that up. But then again, I don't have to push to become a writer, because I already am one, and nothing and no one is going to change that.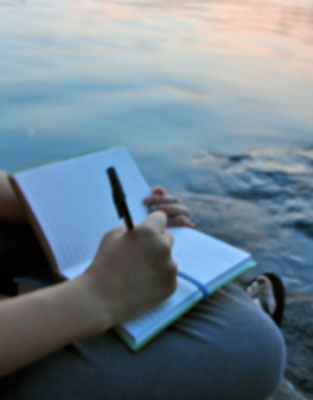 © Grace K., Port Washington, NY