The First Boy
January 8, 2013
The first boy that ever loved me was a chubby little French boy with gorgeous blue-green eyes. The sad part of the story is that I didn't love him back. There's no real reason as to why, just that I was a funny little 3rd grader who still had higher expectations of the men in my life. Fortunately, I now realize the importance of personality instead of looks, which, let's all admit, are still just a little important to us.

He fell in love with me when we were both eight years old. Although he was French, he wasn't particularly stunning or charming, just very sweet. His name was Antoine, and he was hopelessly devoted to me.

Since our families were friends, we saw each other almost every weekend. He would annoy me with his romantic sayings and hand holding, which I pointedly refused to do on numerous occasions. We sat together in class and talked about our dreams of the future. I remember being in every one of his possible future lives. He was in none of mine.

I think I really got the hint on the day he gave me a love poem that he had written in French. Roughly translated, it goes like this:

You are the sun,
I am the moon,
We are opposite,
Yet the same.
You are perfect for me,
And I for you.
You are perfection in my life,
And I love you.

I laughed after I read it. I asked him if he was serious. He said "Oui". I walked away from him after that, thinking that he was the most annoying, weirdest kid I had ever met. While walking to my car, I threw the poem in a trashcan on the street.

I may sound naïve and a little full of myself in the story, and I admit that at eight years old, I was. I was innocent and conceited and thoughtless. But aren't we all? Don't we all take everything for granted in 3rd grade? The food on our table, the presents we get for Christmas and our birthdays, the school we get to go to every day. At eight, I thought I ruled the world, but I don't anymore.

And that boy? The one who loved me? I found him. We talk every week. He's in love with someone else now, someone much more deserving of his kindness, and his beautiful poems. The funny thing is; she looks exactly like I do, but she's not me. And the little boy that loved me, that chubby little French boy, is gone. Now, he's a good-looking, charming French guy with the same pair of gorgeous blue-green eyes.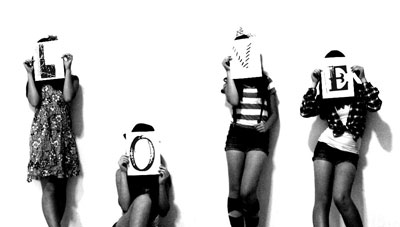 © Yoko K., Madison, WI