Talent Searching
September 17, 2012
There I was, little 7-year old me. Impatiently sitting in my second grade desk, waiting for my turn to be handed a worksheet. Mrs. Lisa threw a piece of paper on my desk as she strolled by. I quickly grabbed onto it, crinkling the edges. Eagerly gazing down at this mysterious piece of paper, I skimmed through the instructions on the top. I couldn't wait to start writing. We had just learned about poetry. Ideas were already flying through my mind. Shakily, I wrote my first line. And from there, the words wouldn't stop coming. When I finished writing on the black lines that crossed my paper, I put my pencil down and looked at my work. You'd think I would be proud of it, or maybe just happy that I was finally finished, but I wasn't any of those things. I had no idea how good my poem actually was. I shook my aching hand. Writing can be so painful. Once again, I read over the large crooked words. Satisfied I would get a good grade, I shuffled over to the teachers desk and gently put the paper down.

The thunder is booming with madness
The rain is sadly thumping across the floor
The mud squashing with terror
The clouds are grey with anger
The lightning glowing with red hot anger and disappearing like a ghost that's been seen
The roof's knocking with sadness in its heart
The shoes walking across the ground furious, squeaking with tears
The sky is black and scared while a chill comes across the earth
The sun disappearing with a shriek of sadness
It says bye bye world
Everything is so furious, so sad with tears

Okay, so sure I used the same words over and over again. "Sadness, anger, sadness, anger, anger, sadness," and I start nearly every line with "The." Creative, right? Sure, there are much better second grade poets. It's not mind-blowing. But it's definitely better than the average second grade writer. And it was mine.

Not long after that, I found myself in the desert museum, standing in front of a crowd of people. My poem was sitting in front of me. As the crowd looked at me expectantly, I could feel my heart pounding against my chest. Taking a deep breath, I began to read. I stumbled, stuttered, and mispronounced my own words. I made funny noises as I read, and when I was finally done I could feel myself shaking. Luckily, a shy 7 year old that messes up words is probably pretty cute. The crowd politely clapped and I ran back to my seat. "Good job, sweetie!" my mom whispered to me as I took my seat. Both of my parents were beaming.

I had won 2nd place in the poetry contest. Right behind a poem about a roadrunner that both me and my family were completely unimpressed with. My poem definitely stuck out against the rest. "A Desert" "The Desert" "The Desert Is" "The Roadrunner" "Rattlesnakes" and then my poem, "A Rainy Day."

To be honest with you, I have no idea where I got my motivation for this poem. I've lived in Tucson all my life and it rarely rains. And the few times it did rain, I loved it. I didn't view the rain as a bad or depressing thing. It wasn't raining the day I wrote it. I certainly wasn't a depressed or angry child. Quite the opposite actually, I was always cheerful and happy. One of the mysteries of childhood, I suppose.

This isn't a magic moment in my life where I discovered the magical world of words, or when I discovered my only passion in life and my long-lost destiny. But I can tell you, I've spent the years since then trying to figure out what I want to do with my life. It hasn't been easy; I'm into so many things in my own way. I like math, history, science, photography, art, and so much more. But I seem to only be average at most everything. So much so that when I win a stuffed animal in a claw machine, I'm so proud of myself that I can't stop beaming for about an hour just because it's something I'm good at. Keep in mind, this isn't 7-year old me anymore either. This is a 16 year old girl walking around a store proudly holding a cheap ugly stuffed animal in my arms. A stuffed animal that I'm going to go home and give to my dogs to rip apart.

What I'm trying to say is, writing is all I have. It's the one thing I can be proud of. And it's been that way since second grade. My somewhat depressing poem ended up getting published in two books, a children's poetry book and an "adult" poetry book. It remains my biggest accomplishment to this day.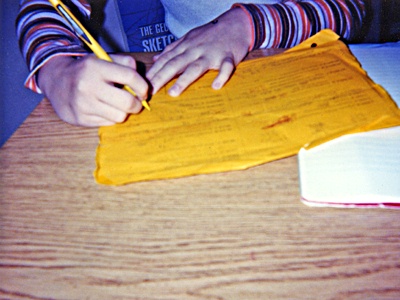 © April R., Highland Village, TX