The Family Quilt
MAG
August 7, 2012
The phone call rang loud and shrill. It woke us up, all cuddled together in the tiny bed that my mother slept in as a child. My father reached for the phone to receive the news we all expected. At 5 a.m. on a cold New York winter morning, I learned that my grandmother, my caring, loving grandmother, had died of Alzheimer's. At age 11, this was my first brush with death, but it is still the hardest one I have faced.

I was close with my grandmother in a way that many children are. I looked up to her, enjoyed being with her, and treasured the thoughtful gifts she gave me. We shared a deep connection, and our relationship was meaningful for both of us. Her spirit and bright outlook on life, always assuming the best in people, has stuck with me. To this day, I carry her love and guidance wherever I go.

The phone call that morning did not mean losing her forever but instead the beginning of a new era for me, one that includes traits of my beloved grandmother. I know she is out there somewhere, or maybe just inside of me.

Every year, my family would travel to New York for winter break to see my grandparents. Two weary parents, two exuberant children, two large dogs, and a car full of brightly wrapped Hanukkah gifts would make their way up the East Coast for two weeks filled with love, laughter, and my grandmother's cursing. She was quite a character, and her antics kept us in stitches for weeks. As I matured, it became increasingly apparent that her zany behavior was due to more than her I-don't-give-a-hoot attitude.

Grandmother's days and nights were sometimes mixed up. She would burst into our bedroom at 4 a.m., throw on the lights, and start talking as if we had been in the middle of a conversation. Often, she would ­fumble for words, and she became ­increasingly preoccupied with things from her past and some new objects. Her hoarding behavior got worse. Beanie Babies lined her long dresser and competed for space with versions of Clifford the Big Red Dog.

Sometimes, my grandmother would amuse us by singing sweetly to these animals. As a young child, I was slow to notice these changes. However, one incident stands out in my mind.

One chilly day, our clan went on a quest to find lobster. Trust me, this task was easier said than done. My grandmother (who struggled to find the right words) begged my mother to find "the red thing." Although she was unable to describe it any further, my grandmother was sure of the color and the fact that it was one of her favorite foods. After an extensive guessing game, my mother broke the code and off we went.

On the car ride to the restaurant, tensions ran high. We avoided talking about my grandmother's condition, and our family secret was suffocating the car, robbing us of joy. As a child, nothing is worse than seeing your family upset, so I decided to provide some comic relief. I told my grandmother a silly joke and she giggled. Determined to repeat the results, I told the joke again. She laughed again, as if she was hearing it for the first time. I soon realized that no matter how many times I told the joke, my grandmother would react as if she had never heard it before. I kept saying it and she kept laughing, however, my mother was stone silent.

The joke was not funny for her. The laughter did not ease the pain of seeing her mother fall apart in front of her eyes. My grandfather, on the other hand, dealt with his pain by laughing and encouraging me to tell the joke over and over. Looking back, this incident was a tip-off that something was terribly wrong with my grandmother. I loved her greatly, but in that moment, I treated her like a seal that performs tricks. I selfishly exploited her illness and gave her the laughter of her grandchild as a reward.

Sometimes I try to convince myself that my grandmother was playing along and really knew what was happening. But, in my heart, I know that was not the case. She laughed because it was all new to her; she could not hold on to what she heard for even a moment.

Her decline was gradual, but in the end, my grandmother came apart quickly. Every time she went to the hospital for a medical problem, her mental state deteriorated and she slipped further and further from us. That October, when my mother raced up to New York to take care of Grandmother, I decided to go too, not wanting her to be alone during this tough time.

One rainy afternoon, we squeezed into bed together, sandwiching my grandmother between us. We patted her hair and covered her gently with a family quilt. Her once-vibrant and dancing eyes were now glassy and vacant. She stared around the room and then her attention settled on the intricate pattern of the quilt. Her brow furrowed as she stroked the thread, trying to figure it out. She was confused. It was all too much for her – too complicated.

My heart twisted like the thread. I had always been proud of my grandmother. Years ago, she had been one of the first women to attend the ­pharmacy program at Columbia University. Now, her great mind had somehow vanished and the woman beside me was puzzled by the pattern on a quilt.

I clung to my mother and my grandmother on that lazy afternoon, knowing that at least I could make them feel loved. Although we did not speak, I knew that this was the end. Cradled together in the warmth of the quilt, caught in the moment, we were connected forever in time. No matter where life took us or when it ended, our paths were woven together like the pattern on the quilt. My grandmother may not have been able to ­figure things out that day, but she knew we fit together. When the threads of your life come undone, your family will still be there to help you, to hold you. She was the one who taught us that.

In the months that followed, the disease cruelly ripped away my grandmother's mind and body. It became a struggle for her to speak, to walk, to swallow food, to remember what day it was, to recall even our names. However, she never forgot the way her family made her feel. Even in the consuming blankness of her mind, I believe she knew that she had us and that she was never alone.

Two days before she died, I was with my grandmother in her tiny hospice room. I lowered the heavy steel rails on her bed and slid in beside her. I gave her a kiss and she kissed me back. Although she did not know who I was, she remembered how I made her feel. In the soft touch of her lips, I could see that she was not scared. I like to think that as she left this world, she felt our love and appreciation for all she had done.

On a Friday morning, I was awakened by my mother's cell phone. My father grabbed it, but there was no need to relay what he heard. We all knew. My grandmother had lost her battle with Alzheimer's, taking a part of each of us with her. But in return, she gave us all a part of her. Her strength and courage live on in my family, and in that respect, she is still with us. Her death was my loss of innocence. As her life unraveled, mine came together. Desperate to hold on, I have woven her thread into my quilt, and I carry her with me wherever I go.

The day after my grandmother died, the limo arrived to take us to her funeral. My grandfather sat in the back, silent and still, pale in the cold winter morning. But, as we arrived at the cemetery, he was jolted out of his mournful haze. In the face of the most crippling loss he had ever known, he mustered a joke: "There are more people here than in Yankee Stadium on opening day!"

We laughed through our tears and then trudged through the snow together, arms linked, making our way to our family plot. In the stillness of the snow, I stood among generations of my family. I read name after name on the large gray headstones that crowded the tiny patch of ground. Although I never met most of these people, they are important to me; I am the product of their intersecting lives.

I looked from my grandmother's gravesite to the spot where my mother will one day be buried, and I was suddenly flooded with a great sadness. I realized that when my mother's time comes and she is dying, I will assume the same role she did with her mother. I will become the caretaker. As her life unwinds, I will not let her forget that I am here. I am determined to become the person she can hold onto when all else is lost.

As I turned to leave the family plot, I realized that one day, I will be buried there too. I am not scared though. I know that whatever happens, my family will be there for me. Just as I was there for my grandmother, someone will hold my hand as I let go of life. Nothing is strong enough to break the bonds of family. Even death cannot unravel our family quilt. This quilt is our comfort, shielding us from the finality of death with a legacy of love and laughter.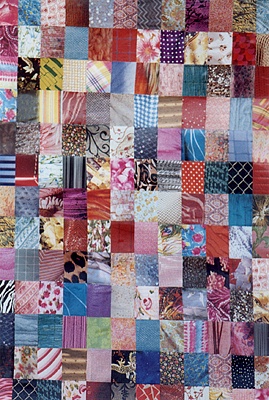 © Amanda F., New City, NY