A Child's First Dog
June 25, 2012
My first dog was an American Cockerspaniel named Abby, she truly was my dog. My family had her about four years before I was born, and she was purebred, papers, and everything. Then my mom found a stray pomeranian about six months after we got Abby, his name was Seth, and he was about the same age as her. We know he was a purebred because the breeder contacted us, and the original owners didn't want him. He was pure black (which apparently is rare). Abby and Seth had one accidental litter because we were planning on showing them, but then decided against it, and Abby was used for two breedings from the breeder we got her from after that accidental before she got spayed.

Abby was my dog from the start. She was all over me when I was first born, until the day she died at the tender age of 16. She would chase after me in my walker, allow me to crawl all over her (even pulling me down the street on my roller blades when I got older). She started my love/interest for agility when I was six. We use to do everything together. My first word when I was starting to talk wasn't "mommy" it was "Abby" :'D she ran straight up to me and started to lick me when I said this according to my mom.

Abby died when I was about 12 almost 13. It was the hardest day of my life when I had to put down my best friend. Since Abby I have had several dogs that haven't worked out for my life like how she had. Kaiden is actually a lot like her in many ways except for not having a curly coat. They were the same color (Black with one white streak) and they have a personality that's a lot alike. I told my fiancee that when we have kids I want their first dog to be an American Cockerspaniel like how mine was, because I want them to learn the joys of having one, and learn how to groom them, and take care of them.

Abby was my experiment dog. I had learned how to groom a cockerspaniel's fur using her. Sure I messed up a few times, and we had plenty of bad hair cuts, but in the end I learned, and she put up with the several bad hair styles that never worked out, and thankfully it was during the summer time, so we just shaved her fur for her. Abby wasn't like the first dogs you generally hear about, she was much more than that to me. She was my best friend, my companion. She followed me to school a few times. She would always wait outside for me to come home, and get excited when she saw me.

They say its the first dog that shows a child about life, and Abby taught me so much about it. She taught me to have patience, she kept up with me through her younger years, and taught me that no matter what good things do come along. Sure there were times when I couldn't understand why she couldn't keep up with me, but I would slow down to her pace, and I would encourage her along the way. Abby taught me how to train dogs, and how to find what encourages them the most. She taught me to be gentle with not only animals but other human beings. She paved my way to the dog world, and helped me find what I really liked to do.

When I started to play music, Abby taught me to not give up. Her old body was starting to give out on her by that time, but she still always found the strength to get up, and lay down next to me as I played, and learned about different things.

Out of all the things that Abby taught me, the most important thing was how to not be selfish and how to say good bye when it was time to go. And this has helped me out in life. I don't think if it was for Abby, and her teaching me how to not be selfish, Valor would have possibly suffered until she died from Parvo instead of me realizing that she needed to be put down.

Abby as also paved the way for a lot of Kaiden's training. If it wasn't for Abby I wouldn't be able to put up with everything I have when it comes to Kaiden, and I wouldn't be the person I am today. Its the first dog that a child learns to love the most, its the first dog that helps a child discover who they are, and what they want in their life. Its the first dog that teaches the easiest and the hardest life lessons, and its the first dog that teaches the child how to say hello, and the hardest lesson of all good bye.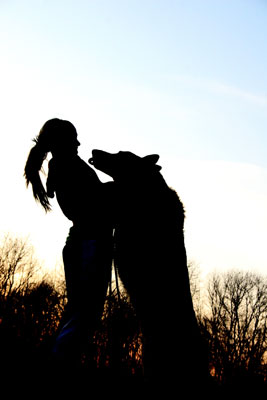 © Brittany U., Terra Alta, WV