Trapped In Anything But Reality
February 7, 2012
Since September 11th 2009, holidays have been rough for my family and I. On that dreadful morning, at 2:30am, my grandmother, Sharon Lee Rudisill, passed away from Breast Cancer. Every day, there's a little part of me that's in a fog, living in the past. I wake up everyday with the hope that maybe, just maybe, it had all been a dream. My mornings are anything but reality at times, like I never left my dreams. I convince myself every morning, before I get ready for my day ahead, that everything will work out, that everything is okay, but sometimes the truth hits me square in the face. I can't escape my past... but I can be ready for my future.

My grandmother was an amazing woman. She didn't think much of herself, but in my eyes, she was everything a woman should be. When I was a baby, she took my mother and I into her home. She was later known to me as Ma-Ma since I couldn't say grandmother at the time. Ma-Ma was kind to me. She barely had a mean bone in her body. Often when my mother returned from work, she would open the door to recently "decorated" walls. There I would be, standing there with a Sharpie in my hand, grinning at what I thought was a masterpiece. In my mind, a great work of art was, terribly drawn stick figures on the wall. My own little mural. My own world. I often lived in that world, daydreaming about what could be, what I wanted. My grandmother knew that for a three year old, I had a creative imagination. She was always encouraging me to express myself. I would play all day and pay little attention to anything in reality. I loved watching my favorite TV station PBS kids, that was our past time activity we did together. My grandma loved me and I love her. She and my mother often described me in my childhood as eccentric, and a "little ham". We appeared to be one happy family.

Some of the things we would do together were very extraordinary. Often we played restaurant. I would wait on her; and for silverware and dishes we used her mother's glass and crystal. She would always order Shrimp Scampi and I would always order lobster. Instead of always getting imaginary food, she would take me to Friendly's. That was our special tradition. Often we were in the mood to cook. Since I was only a little kid, we took water in a large bowl and added leaves, grass, mud, and anything we could find outside. Soup is what our goal was. In our mind, that goal was reached and I'm glad it was to this day.

Looking back now, I realize I should have cherished those moments I spent with her. After she's gone, I can never have those times again. I can only relive those memories. The bad thing about only having memories of a person who is deceased, your mind alters what actually happened and what you wanted to happened. Sometimes it's hard to separate fantasy from real life. I miss spending time with Ma-Ma. She was my hero. If I had just one wish... I would wish for her to be here with me again. Ma-Ma is gone, and I can't change that. Even though she's not with me here, she will always be in my heart. I've been told by many people, to hold on to those you have lost, but don't let them take you away, in losing them, you can lose yourself.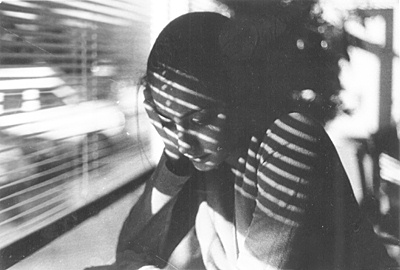 © John O., New City, NY