Tante Anne-Marie
September 26, 2011
I feel witched, as if none of this is happening. Colors start to fade together and I cannot breath. It is an endless paradox: every hearty breath I take feels like it is killing me. My family is all talking at once trying to calm me but nothing is working. All I hear is gibberish, and my heart beating faster and faster. "Your aunt" they say over and over again and again, "she only has two weeks," they say. I feel lost to the world.
I remember the last time I saw her. It feels like centuries ago even though it has only been a few months. She was so happy with her boyfriend and her adorable dogs. Her hair was short but it was still there. In my eyes, she was beautiful. Beauty was one thing breast cancer could not steal from her. My parents, my brother, and I all went to visit her in Canada. I had never been there before. We met her daughter and three granddaughters for the first time. I never even knew she had a daughter. She seemed too young to be a Mémère (French for grandmother). We all traded stories with one another, in both English and French and had so much fun.
Just writing this conjures little but amazing memories of her. She helped me with my French. French was her first language so she knew it well. She would inculcate words several times so I could understand it well. I remember her laugh as well. She laughed all the time and she ingratiatingly made everyone else laugh along with her. She was the youngest of her siblings and she loved to dance and sing with us.
I wish this were not happening. It just is not fair! I wish this were only a crucible to see if I could survive even though I do not know if I can. I want this so badly to be a nightmare that I could wake up from and it would all just be over. I want to scream without any regards for propriety but I know I cannot. It will not help anything if I do; it will only defame my own sanity.
My aunts are going to see her today and all I want to do is go with them. I want to forget about school and just go see her. I want to be there for her, but I cannot. I want her to get better this time. I want her to win this horrible battle, but in my heart, I am not sure she can. I never truly pray, but tonight and for the next two weeks, I will pray every moment of the day. I write this for you Tante (Aunt) Anne-Marie. I love you.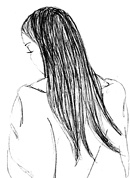 © Miranda B., Neosho, MO