The Time Travel Mirror
July 3, 2011
Most of my memories involve dolls. Things like costume jewelry, Barbies, and Cinderella castles. Sometimes Mani-pedis in cardboard boxes (the water soaked right through, the carpet damp), midnight snacks in the basement. But all of them are so vague, so blurry. Like a bad TV reception, the static all over the screen. You couldn't see the good, the feature presentation. But it would be coming soon.

I watched the girl in the wall, travel through what seemed like time.

And after playing and frolicking was over, she would crawl underneath the comforter on her poster bed, and stare up at the ceiling. Not the best activity, mind you. She just couldn't go to sleep, no rest would to come to her. Her mind couldn't stay blank, and I never knew why. Did she have too much on my mind? Was it some otherworldly force that kept her tied down to reality, instead of pleasant dreams that little girls had always wished for?

I just couldn't find out. A few years later, I see the girl, one with hot hair, just like her temper. But she didn't like being bad. She tried to be good, I could see, she tried constantly to earn the attention and reward from her peers. A hand to hold, a shoulder to cry on. Someone to play on the playground with after lunch? She would wait, and wait, but she ended up laughing alone. No one was on the other side of the teeter totter, no one to balance out her conscious mind and wavering soul. And she would play by herself, for many years.

In another place, there the girl was again. But, she seemed happier now, almost angelic. Her hair wasn't really red, but more auburn, and maybe blonde. She was laughing with others, instead of by herself, and she munched on food in a large cafeteria. She received awards, and even when other kids stared at her, she would just brush them away like a fly on her shoulder. She stared into my eyes, and smiled. She showed a wide, broad grin that displayed braces in various colors across the train track metal. And then, she spoke.

"Now you see what we both used to go through." Her eyebrows raised up, the thick hairs slightly quivering.

"What do you mean we? I'm not...and you're not...and what's going on?"

"I'm you stupid! Can't you see the resemblance yet?"

Then, I realized what I was looking into. A mirror as tall as my bedroom wall. And, I was smiling back at myself, through various stages of life. Small child, adolescent, until I reached the age I was now. Thirteen long, and sometimes agonizing years of stares, rejection, and pain. But out of it came an angels halo, a ring of peace and comfort inside of my own skin. And it stayed for awhile, never disappearing.

Have comfort in yourself, because if you don't, you will never be happy. And this comes from someone who's finally there, who had to travel what seemed like thousands of miles to get to that one spot inside of my soul. The once, empty hole, the black void. That's now filled to the brim with bright light. And that's how it's going to stay.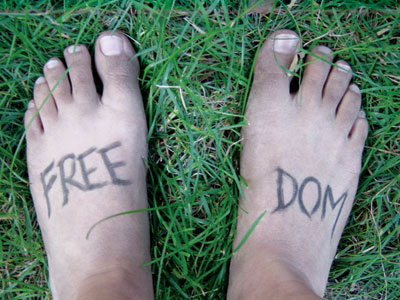 © Anna B., Northville, MI