My Personal Culture
August 2, 2010
"No culture can live if it attempts to be exclusive." - Mahatma Gandhi

You hear it all the time. "Oh, that TV show is ruining our culture!" "When I was a kid, music like this wasn't part of our culture. We had real music." "Your culture is all fast food and playing on the computer. We used to actually move around and go outside when I was your age." Culture, culture, culture. A ruined culture, a computerized culture, a fat culture. But our generation is not just limited to Jersey Shore, a piece of Apple technology, or a greasy cheeseburger. American culture is brave and groundbreaking. It is stepping away from tradition and running without the training wheels. But I do not think that a country, or even a person, can limit their culture to two or three things. A culture is everything someone or something is. It is their hopes and dreams, their personality and attitude, their favorite foods and favorite songs. I happen to have three main points that connect my culture together. These things change the way I see the world and are the biggest parts of me.
It was at that age. That age where your older sibling is the world to you. Where you strive to be in their shadow – to do the same things they do the exact same way. It was at that age that I began to write. My sister, a Power of the Pen guru and often the maker of small newsletters for our family with invigorating articles about what was for dinner last night and what she was doing in school, showed her talent for writing at a young age. Naturally, I followed. While my sister showed journalistic tendencies in her writings, my mind wandered and spat out hundreds of one-page stories about magical forests and leprechauns and imaginary animals. By second grade, I had finished my first "novel" entitled "Witch Way." It was largely copied off my favorite book Harry Potter, which, at the time, was a book as big as my head with lots of huge words chronicling the adventures of a wizard. After my writing debut in Mrs. Thompson's second grade class, I continued to write creative fiction. In fourth grade, I wrote a book called "Lavender Lace." Although I never finished, the moment I saw Mrs. Wyant's reaction to a fourth grader handing in a twenty four-page story compared to the rest of the class's three-page tales about their dogs or penguins, my passion for writing emerged. The next weekend I bought a how-to book on writing a novel in thirty days. Since then, I have written the first few chapters of over twenty novels and countless numbers of first pages or paragraphs. I love writing because it let's me experience things I don't know or never will know. Writing is like a thought experiment to me. I tend to subconsciously place myself into the story to see what I would do in the situation that the protagonist has been placed in. Doing this has helped me learn more about myself. It has also introduced me to another of my passions. As I have always tended to see my stories as movies in my head, writing gave me an eye for film ever since the beginning.

This one wasn't inspired by my sister. Nor was it following in anyone else's footsteps. It was merely an accident. It was an early summer day – only a few days since schoo l was let out. The last day of school high had worn off and I was inside looking for things to catch my attention for at least an hour or two on my computer. As I opted to open Photoshop and mess around, my mouse jerked to the right, instead opening Windows Movie Maker. Because of my extreme monotony, I decided to keep the application open even though its features seemed limited to a few cheesy effects and adding text to a video. Less than an hour later though, I had created about thirty seconds of what I thought to be the best music video in the world. It was a musical montage of clips taken in the past few years depicting the carefree attitude and youthfulness of my friends. Even though the start of summer high had gone, the love of film high took its place easily. I uploaded my video to YouTube on a whim, and after receiving positive feedback, I started lugging my camera around with me everywhere, filming everyone and everything I saw. By the end of the summer I had created three more music videos, each progressing in skill level. Now, I have approximately 61, 475 and counting collective views of my six videos on YouTube, have been applying to well-regarded film camps, and am learning to use an extremely advanced editing system. Film has changed the way I look at things. When writing was my one and only passion, I could look out a window and a story would immediately come to mind. Currently, looking out a window immediately creates a movie in my mind. Instead of thinking what would make a good story, I imagine what would make a good shot. But my love for writing hasn't faded. Film has actually increased the quantity of my novels as I frequently come up with stories based on what I imagine as a movie.

When I was around the age of 5 and entering my curiosity-filled years. That was when I first noticed the big black shape high on a shelf in my mother's office. I had been on a hunt for Christmas gifts and had stumbled on the thing instead. Being very easily distracted, I turned my attention to the thing and spent the next half hour searching for ways to access it. Once I finally lugged a stool upstairs to the shelf and accessed the thing, I realized it was a camera. Unlike the smaller and more compact camera my mother owned, this one was big and bulky with a long neck strap hanging from it. I immediately placed the thing around my head and started messing with the lens. Although the camera didn't turn on and was broken to the best of my knowledge, I had fun twisting the lens to zoom in and focus on far away things. I continued messing around with the huge and heavy camera for years – it even became the inspiration for a short story about a spy written in third grade. But as I continued to age, I outgrew playing with the old thing and it began to collect dust in the back of a closet, languished and forgotten. But many years later, after I had already bloomed an interest in photography, I stumbled upon the old thing again and was immediately overwhelmed with inspiration for photographs and stories. Over the next few weeks, I worked to acquire the right film, filters, and batteries for the nineteen-year-old Minolta Maxxum 3Xi. Soon enough, I was pestering my parents to get my film developed and hanging the photos up around my walls for inspiration for stories, videos, paintings, and poems. Photography allows me to capture single moments in pretty ways compared to capturing longer moments on film. Photography helps me to capture those beautiful moments that only come along once and hold them forever. I now tend to take pretty things for granted less, which has helped me live more in the moment.
Although these are the largest passions in my life right now, I am not merely a camera or a pen nor am I limited to the stereotypes that go along with these activities. I am a friend, a student, an Old Trail buffalo, a music-lover, a reader, a painter. I pride myself on being a leader, being imaginative, and being an independent person. Writing, film, and photography are the largest parts of my life because they connect the rest of my passions and traits into one full culture.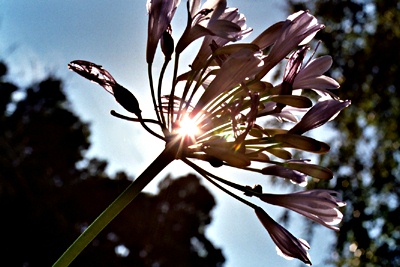 © Brandon W., Redwood City, CA