If I Should Die Before I Wake
July 13, 2010
If I should die before I wake, I pray the lord my soul to take, Amen. That's the prayer that I used to repeat to my brother in a sing songish voice. His name's Tafari, he's turning five August 15, and we- well at least my mom and I- love him deeply. He was diagnosed with Chordoma when he was just three weeks old. It's a type of tumor in your bones that is normally found in the spine, which unfortunately is where Tafari had this tumor. We had 3 options:

#1-We could let the doctor's go through the procedure of having the tumor removed, and risk that he would be paralyzed or not live through the surgery at such a young age.

#2-We could wait until he got to be 3 years old (if he lived that long) and get the tumor removed, but again risk that it would go well and he would be in the hospital every couple months for weeks at a time for investigation.

0r #3-We let him die.

We chose the first option. I have to admit I was terrified for the little rascal, but he must have known that he was meant to do something big in life, because he went through the flesh ripping, bone breaking, potential deathly procedure like a champ and prevailed. His left leg however didn't make the cut for him, and was paralyzed and to later be amputated. Looking at Tafari now, all I think about is how much he went through and still goes through being an almost five year old boy/amputee, and he still is a champ. Later on in his life, about when he was three, we discovered he had dyslexia, but that didn't stop him.

This would be written about three years ago. Tafari would have been 8 in 32 days. He died from a seizure in his sleep, he choked on his tongue and suffocated. But I know that he lived his life as much as he could before he went to sit next to Jesus and watch over our mom and me. His favorite prayer makes sense to his life story. It still makes me cry every night when I pray that he is having a ball up stairs, and that he is way better off than the people downstairs, but I always have my answers in my prayers.

The prayer is listed below:

Now I lay me down to sleep,
I pray the Lord my soul to keep.
If I should die before I wake,
I pray the Lord my soul to take, Amen.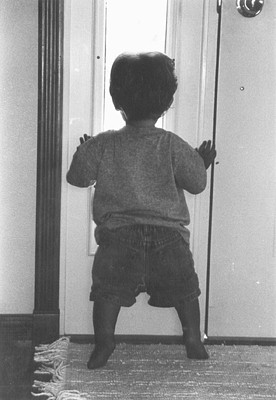 © April D., Whitehall, MT