Where Dreams Come True
September 26, 2018
It all started with a commercial. I watched the baby take his first steps on TV, right before his family left for a trip to Disney World. The wheels in my head were set in motion and an idea came to my mind. When I was about 4 years old, I wanted to go to Disney World. For most young kids, it's a normal request, but I wanted to spice things up a little: I would walk into Disney World. What do you mean, "walk in"? Doesn't everyone walk into places? What makes you so unique? I'm glad you asked. I was born three months premature, and because of this, I have cerebral palsy. CP is a condition that doesn't allow me to walk on my own. Walking into anywhere, let alone a crowded, hectic place like Disney World was, to put it lightly, a tall order. Even so, my dad and I struck the deal, and the real work began. I had to become stronger; I had to grow more persistent; I had to have confidence. Luckily, I had people in my corner to help with all of that. Over the next three years or so, I worked with physical therapists, acquired a walker, and practiced walking, standing, and balance --- all skills that I would need to turn my goal into a reality.
I remember the feeling when my legs would protest doing any more work, practically turning to jelly. Despite this, everyone else told me I could do it, so I persisted. I walked, stood, balanced, until the time came. I was ready. I had -- no -- we had worked so hard to get to this point. It was all because of people like my parents, brothers, teachers, and therapists that I was able to grow so much, both physically and mentally. Constantly pushing me to "walk on," yet encouraging me whenever I needed it. My time had come, and, looking back on it, I probably felt the same way Rocky felt after training to fight Apollo Creed. I just needed a montage and some cool music. On June 9, 2008, as I stood in the tunnel leading into Main Street, looking around at my adoring fans, otherwise known as my family and friends. My dad asked me if I wanted any help doing this thing. I promptly replied, "No!" and situated myself facing the end of the tunnel, feet planted firmly, heart most likely beating out of my chest. Then I went, walking ever so slowly at first, then gradually speeding up, comforted and encouraged by all my friends and family supporting me. From the start, they had my back on this, no matter what. Step, step, step, step, bump. I realized quickly what had happened: I lost my momentum and my focus, bumping into something. Luckily, we had practiced and planned for this type of situation beforehand. Holding fast onto the handlebars, I mustered up all of my six-year-old strength, picked up my walker and straightened out, picking up my pace once again. It wasn't too long before the cheering crescendoed because I had made it to the end, where my mom was waiting with tears in her eyes and arms open wide ready to hug her son and tell him how proud she was.
Looking back on that experience, I realize something pretty profound. Every once in a while, life will throw a few bumps in the road. Though it may set you back for a bit, don't let it stop you. Pick yourself back up and finish. It's worth it. Besides, there just might be someone there cheering you on along the way.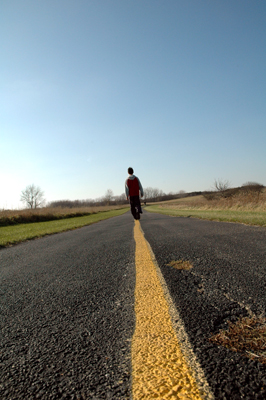 © Seita O., Palatine, IL