My Hero, Anne frank
December 10, 2012
There is only one historical figure who has made an impact on my life. Her name is Anne Frank. Her courage, strength, and emotions are what made her so admirable and loved. She is my hero because of her patience and calmness, her positive and determined attitude, and probably her most known quality; how brave she was.


During the early 1940's, Anne and her family went into hiding because of the threat of being sent away to concentration camps and never seeing each other again along with many other people. She was amazingly calm and set a good example for all the frightened people around her. She was only 13 years old! She lived with the same people for three long years, never being able to leave, no matter how angry and frustrated she was. In addition, she couldn't move from 8:30 AM to 6:30PM so no one would hear them below. This called for even more patience. She had to sit still for 10 hours per day for three years. This showed amazing endurance for a girl not even 14.
Her desire to keep her and her family safe kept her quiet and she had unbelievable willpower which she used to contain herself in the many times she wished to burst out at everyone and scream. She was also unselfish and learned to worry about the bigger picture instead of "silly little quarrels". This showed amazing patience and calmness on her part. When the Frank's hiding place was finally discovered, Anne stayed remarkably calm when they were taken away. She didn't cry or shout out when her cherished diary was thrown to the ground and scattered everywhere. She simply watched her life blow away and looked to the future of what was to become of her.


Anne was a very positive girl and it reflected on herself and many others. She had many hopes and dreams and spent her days confiding in her beloved diary. This writing saved her from boredom and gave her hope. She was always thankful for being safe and tended to make the best of things. Even when she first saw the small dreary, damp place they would be staying in, she called it "grand". Anne was determined about being free again and this kept her spirits high. She even preferred being in the Annex because it kept her and her family safe instead of the hate filled streets below. She loved having fun but she could barely move in the Annex, so instead she relied on her diary to be her playmate and best friend. Inside the beloved journal she shared details of her hard life, her hopes, dreams, anger, and wishes. Anne tried to make the annex seem like home, her spunky spirit livened up the cramped space and she even tried to have holidays in their small, sad living space. Anne really showed true determination in this unfortunate time of catastrophe in her life. She always looked to the future and wished to go to school and become a journalist. Anne's determination kept her rooting for freedom and her spirits soaring to unknown heights.


Probably her most known quality, Anne was brave. The constant bombs going off at night and not knowing what was going on outside must have been terribly frightening, still, she was brave. There was a whole war going on outside, hundreds were killed each day, thousands rounded up and taken away to concentration camps, but still, Anne leaded a semi-normal life! With all this chaos going on around her and living in such a confined place, she must have been extremely brave. She was 13 when they went into hiding, forced to forget her life and childhood, studies, friends, teachers, cat. She had to start a whole new life with barely any belongings. When they were all finally found and rounded up to be taken away she started yet another life. Anne lived so many lives but never got a chance to Actually live. Her childhood was whisked out from underneath her and she spent the rest of her days in what we would probably call unbearable. However, Anne called it an adventure! She took pride in her days, made up her own little games, she found ways to cope with her unfair childhood. Anne must have been VERY brave to withstand all of this.


Anne Frank is definitely my hero. Her courage, tolerance, calmness, patience, and determination are what got her through her war. Though she died at 15 in a concentration camp, we still remember her for her emotions and graceful way of accepting her life. In one of her last entries she said, "In spite of everything, I still believe that people are really good at heart." This last entry shows her belief of pure love for all mankind. This expression could only be spoken by Anne. With COUNTRIES discriminating against her, she still believed that all men were good. This shows so much about who Anne was and how she believed things. It shows the amazing maturity and acceptance of a girl of 13. Anne Frank is a person to look up to and admire, to carry her words and believe in them.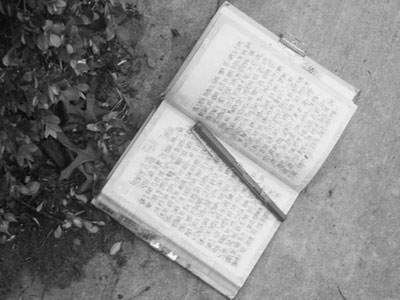 © Quinn B., Lubbock, TX