Girlfriend Bernadette L.
MAG
I will never forget the week before school started because that was when I started going out with Bernadette. The first week I thought it would be like previous relationships: things would go well for a while and then fall apart. Well, I was wrong, and I'm glad.

I have learned a lot. To start, Bernadette has given me a different view of life. Before, I used to think that everything good would turn bad because I came from relationships that involved lies and cheating. She proved this wrong. Now, I believe that everything that is wrong turns right. I am in an almost perfect relationship!

Before I met Bernadette, I didn't try very hard at anything. I don't know how, but she showed me. I used to slack off at school, sports, everything. Since I met her, I work to my potential. This is the first year that I received straight A's for a quarter. The funny thing is, it's the hardest year of high school. She has kicked me into shape and now I have my act together.

She has also taught me the true meaning of love. I always hear couples saying they love each other, and then I see them cheating. Obviously, that isn't love. Bernadette made me feel something no one else had. I get butterflies just holding her hand. I think about her all day, and I have a smile on my face all the time.

I felt like I needed to tell her something, but I didn't know what. Then one night when we were talking, she told me she loved me. The light bulb in my head lit up. I loved her, too. She helped me realize that love isn't something you say before you hang up or when you can't think of anything else. She showed me that it is something you know, something you feel constantly, and something that can't really be explained.

To me, a hero is someone who has a positive impact on another, someone to look up to, and who you can learn from. Bernadette is all of these. She has taught me a lot and has had a positive impact on me. She is my miracle. She is my hero.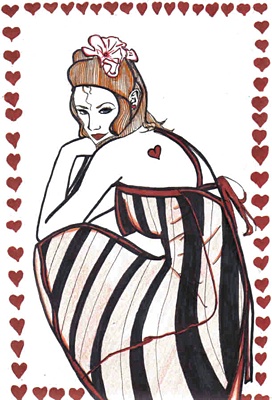 © Anonymous