An Atomic Person
October 3, 2012
A bomb that would obliterate Hiroshima and Nagasaki from the face of the Earth. A theory that would recreate the Laws of Physics. Albert Einstein, the man behind these glorious finds. Surely, he was inspiration for both Mathematicians and Physicians alike. Einstein was known for making the Atomic bomb possible, even after his descredition of it. He was also known for proposing a theory that would reroute the Laws of Physics, more aptly known as the Theory of Special Relativity. Just these two reasons should be enough to inspire the great young minds of America, but I have different reasons for choosing this man as my inspiration.

Albert Einstein was born in Ulm, Germany. The Einstein's were of Jewish ancestry. One of the many reasons he fled to America when World War II erupted. Growing up Einstein had worked for an office patent, in which he helped patent many inventions and theories. Most of Einstein's theories were created whilst he worked there. All of his theories were primarily of thought; Einstein did not physically test them as he did not possess the equipment needed. In fact, for some the world had not even invented just yet. Einstein came to America as a failed college student. Realizing the affect he could make in World War II, Einstein stepped up his game and worked hard to re-enter college.

Einstein is an inspiration to me in several ways. The absolute fact that he flunked out of college and it still did not stop him is my largest. Many people would have stopped there and went to some grocery store and lived off of what they made. Einstein did not. He decided to make something of it, he decided to try again. He would not give up. Einstein was accepted, He worked hard and showed his worth and was rewarded with a letter from the United States Air Force. They wanted him to look over the mathematics for their Atomic Bomb.

Due to the fact that Einstein was from Germany, he was berated and discriminated against. The most passionate of Americans called him names such as: "Nazi, Jew Murderer, Anti-Semitist pig" and so on. Einstein did not let this stop him. He worked on the bomb, tweaking the formula here and there, eventually perfecting it and the first successful trial was accomplished. You see, even in the face of turmoil, up against the fury of the US, Einstein prevailed. He did not let the love for his country stop him from helping the United States of America put an end to the wrong doings of Adolf Hitler.

We owe Albert Einstein a debt that we could never repay. He is an obvious choice for an inspiration and some of you in the audience may be asking yourselves if I had truly thought of a real inspiration or did I just pluck some important character from a World History textbook. I will allow you to figure that out for yourselves, but for me Einstein was a hero. He taught me that even when the whole world is against you, you must fight for what is right. Do not ever surrender your morals, live by them. I willed myself to follow in Einstein's footsteps. I am very good in Science and Physics…they are my strong suits and I enjoy them ever so much. If I fail, I move on trying the next thing until I find what I am good at, I do not quit. Thank you Albert Einstein, you have made me realize that my life is MY choice and no one else's.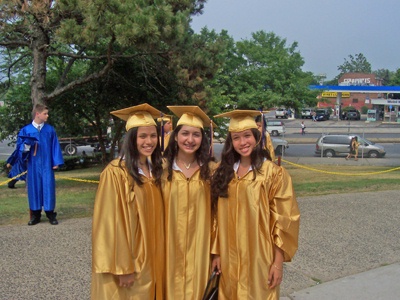 © Elizabeth E., Elmhurst , NY