My Grandma
April 5, 2009
When I was younger, I loved a book about a little girl whose grandma had passed away and went to heaven. I'm not sure why I liked it, I didn't really know the words or exactly what they meant, but I know that I liked the sound of it being read.

Before falling asleep one night, I requested for my grandmother to read it to me. I closed my eyes and smiled sweetly as I heard her recite the words. When she finished reading, I looked into her light blue eyes. "Grandma," I asked, "Will you ever die?"

"Unfortunately," she said.

"Will I?"

"Hopefully not for a long time."

I thought about this response. "Do all people die?" I asked.

"Yes," she answered, "Eventually."

"Why?" I asked.

"How could you enjoy every second of life, if you knew you could live it forever?"

"But, what if you die?" I questioned.

"You never know how much you appreciate something until you lose it. It takes losing something to know its value. There is no sentimental value behind something if you have it forever." She then explained that she had to go. I gave her a kiss on the cheek, and told her that I would love her forever.

I lay in bed that night, thinking about what she said. She must have thought that since I was only 6, I couldn't understand her, yet I knew exactly what she had said, exactly.

The next night I sat on my parents' bed watching TV with them. The phone rang. A chill ran down my back just before my dad answered it. I saw his smiling expression tighten into gloom. Then he looked at my mom and me. He stared unblinkingly for what seemed like forever. Then he spoke. "Grandma is dead."

I then sat there still for the next few minutes. I had never lost anyone before in my life. I didn't know what to think. All that ran through my head was that I was never going to see her again. She was really gone forever. And through the grief, I smiled. At that instant, I had loved my grandma more than I ever had before. I thought of everything she did for me.

Life changes the most when we don't expect it to. I never knew what my grandma had aid that night I would remember forever. Of course I am upset when people die, but missing them makes me love them more every second. Life is only living, if you use every second to the fullest, because any second could be your last. Have fun in heaven grandma, your life will live on in my eyes. Forever.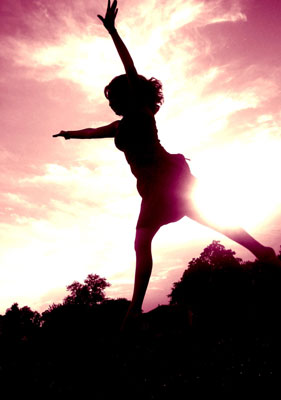 © Martha V., Morton Grove, IL