Letter to a WWII Veteran
January 9, 2019
Dear WWII Veteran,
I was born on American ground–brown-green grass and rolling hills. I was born with muddy feet, running with horses through Wisconsin terrain. Surrounded by green cubes of hay and the gentle hum of an orange tractor. To a foreign family and a house filled with thick accents. I was born into an underpopulated school, standing beneath a flag with a hand on my heart. I learned to love my country and those who stood to protect it.

My name is Nicole, and I will be graduating high school within the next year. I am directly related to several veterans, the majority belonging to the United States. With a brother in ROTC, a cousin in the Army, and a stepfather's honorable discharge, I am well aware of the sacrifices you have made.

I am not naive, for not every family receives the thick, sturdy cardstock with the name of their loved one. But even for those left with the certificate, it is not enough for me. The word 'Honorable Discharge' written in fancy calligraphy does not ease my mind. No card can compensate for your sacrifices.

In time, I have realized that I have you to thank for the brown-green grass and rolling hills. You planted the seeds upon enlisting into the US Military. Following the end of the war, my grandfather sought to leave Austria. In the end, the country was divided between Russia, France, Britain, and the United States. Yet he followed you, the US soldiers, to Wisconsin. There, he raised my Austrian-born mother, who in turn gave birth to me. I have you to thank for my muddy feet that remain buried deep into American soil.

My citizenship lies with Austria, but my heart belongs to Lady Liberty and the United States of
America.

Thank you,
Alias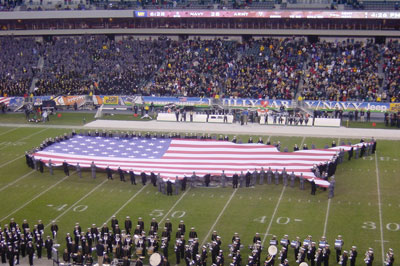 © Kristin B., Middletown, DE