Mrs. Barbee
March 10, 2020
It was sophomore year and sewing was scary and foreign. I was interested but ignorant to the subject, so I took clothing and design with Mrs. Barbee. From the first day of class, I could tell that this teacher was not like the others. Quick, calm, and quirky, Mrs. Barbee wrangled our group of giggly girls into a class that was passionate about sewing. Throughout the second semester, that class became a safe haven—a place to relax and get work done. Always able to joke with us, Mrs. Barbee created an environment that made learning fun.

The best part about Mrs. Barbee was she rarely just told her students the answer. Whether we asked about basic stitches or complex patterns, she asked us questions until we figured out the process for ourselves. I learned more than just how to use a sewing machine in that class; I learned how to answer my own questions. Mrs. Barbee helped me see I had the solutions, and if I wanted to sew, I would only have to think about it a little bit.

After a summer of sewing and using what she taught me, I came to junior year. I had no room in my schedule for a class with Mrs. Barbee, but she made sure to make time for me when I needed mentorship. Before the start of a big project, she cleared a section of her schedule so I could talk to her, get her opinion, and wrap my brain around a plan of attack. In the same calm and joking tone, she walked me through my problems and suddenly I knew what the next steps were.

Then, senior year approached and Fashion Analysis still didn't fit in my schedule. I wanted to be in a design class again, so I took to Mrs. Barbee's office at lunch—once again. Together, we found that Arrowhead offered an independent study and teaching assistant credit. Combining the two roles, she took time from her summer to help me come up with a curriculum that worked for both of us. Every other day, I spent eighty minutes helping the sewing class or creating something new. Playing with patterns and having almost constant guidance from an inspiring source changed not only how I saw sewing, but how I saw its role in my future.

Always willing to talk, always there to help, Mrs. Barbee is an amazing teacher. Not only did she start me on my sewing journey, but she continues to help me learn new ways of problem solving. Now, it is nearing the end of my senior year and I am going to college for fashion and costume design, and I have my sophomore sewing teacher Mrs. Barbee to thank for that.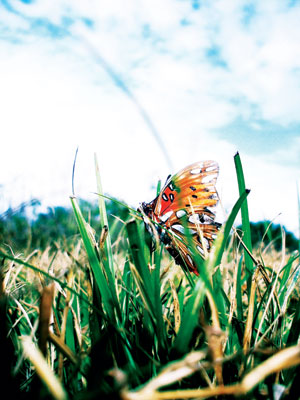 © Ashley B., North Port, FL