Saturday Happiness
January 26, 2009
She always worked diligently at her theater (it may belong to Ms. Fairchild-Newman, but in her heart she knew it was hers). Everyday she appeared and accomplished whatever task they sent her to do. She liked Saturdays best of all, because she was allowed to stay there for twelve straight hours. The actors on the stage would rehearse constantly, under the watchful eye of their director. Sometimes, in some plays, it was she who was rehearsing. But other times, when there were no roles for her age group, nothing to audition for, she took whatever she got, just to be there.

This particular play had one part for a nine year old girl and the rest for adults, so she was on the props crew. She knew very well that it was not easy (though some may think the opposite). She needed to be around that place, with those people. The comic relief, the twenty-something actor who was constantly cracking jokes. They lovingly called him Superman, because he was cocky and hard-headed, but no one could dislike him. Then there was the young woman, very beautiful, the child of two lively veterans of the theater. The woman had a son of her own, Henry, and occasionally she would ask the props girl to watch him while she rehearsed, which she did gladly. There was the newcomer, a biracial thespian with such a baby face you wouldn't believe him to be twenty-eight. He had big dreams and held onto them for dear life, a trait which the props girl observed and eventually adopted, inspired by his determination. There was also the little one, the baby of the family. She was eleven years old and no one could suppress her excitement. She approached everything she did with an adolescent eagerness. So charming was this child that it was heartbreaking to think that in a few short years she may no longer want this excessive soul she possessed. But the props girl wouldn't allow herself to think that way. She lived in the moment with these people she loved. And she did love them.

One particular Saturday everyone in the play left the theater at about 1:30. They were walking to a nearby restaurant where they would have lunch. The props girl walked with her family as everyone fell into a comfortable silence. They, as a unit, crossed the street and continued along the sidewalk in the direction of their destination. Soon, something on the perfect white concrete caught her eye. Kneeling down in front of Donna's Thrift Store (Sale! Today only! Half off display rack!), the props girl picked up a small pebble, so strange-looking. A horse of a different color. The stone was perhaps the size of a quarter, colored dark blue like she knew the sky would look that night when she left the theater, left her sanctuary and returned to earth. It had a sheen to it, worn through in several places; still she could see her reflection, a dreamface lost inside. If held in the right light, she noticed, the edge of the pebble would turn rainbow, pink and green and gold, greeting the blue as if they were old friends. The props girl gazed at the stone intently. It seemed like she believed (and she did believe) that somewhere beyond the shine, beneath the colors and past her own face, she would find truth, and most of all, happiness. Somewhere within that pebble lay the basis of her own life, her reason for living.

The props girl finally broke her gaze on the stone. She looked ahead, at the people she loved most. The beautiful woman carrying her small child on her shoulders, standing next to her, the bright young dreamer who, when sitting backstage, kept the props girls cold feet warm with his own sweater, lagging behind them, the joker nicknamed Superman, who had problems but pretended he didn't, just to make someone else smile, the small girl next to him, the amazing child filled with exhilarating happiness, producing ringing laughter as she listened to one of his wisecracks.

The props girl stared on, enjoying the beauty of that moment. This was the basis of her life, she thought. This is her happiness.

She slipped the pebble into her pocket and went on her way.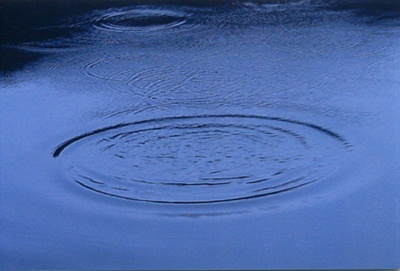 © Alyssa J., Gibsonia, PA