The Discovery
MAG
We'll be right there in a minute!" my mother shouted to my dad. She helped me with my coat and we headed for the hall. It was time for our yearly trip to one of the many beautiful cemeteries in Paris, where we had been living for a long time. Each year, my parents and I would ride half an hour to a village called Tiers. We would always stop at a flower shop and my parents would let me buy flowers. I always chose the most colorful assortments. I knew they were for a stone, but I did not know why we put them there every year.

In fact, until the age of seven I didn't know what we were doing in a cemetery. I knew it as "the place with the flowers and stones." I just enjoyed going there and putting the flowers in front of the tomb, as is the custom in France.

On that particular day, the sun was shining and a gentle breeze was tickling the leaves on the elm trees. We reached the tombstone, and it was time for the moment of silence my parents and I shared there. I used that time to look at the flowerbed, counting the flowers and looking at the other tombstones, but this day was different. I had never thought of reading the stone. I found I could make out ... my last name. I tugged at my mother's sleeve.

"Mom! It says Yasso." My mother looked at me, not seeming surprised. "Yes, it does, honey."

"Wow! I'm glad there's someone from our family here!" My parents smiled. I didn't think it was funny, considering I thought the cemetery was just a garden with stones. It seemed natural to be happy that someone we knew had their name written there.

When we got home, my mom sat down on the couch and took me in her lap. "Noelle, do you know why we go here each year?" she asked.

"To plant flowers?"

"Well, not exactly. Where we go every year is called a cemetery. People who die are buried there, and their family has a stone made," my mother answered. I still didn't understand. Finally, I realized that someone we knew must have died for us to go there every year. When I asked, I learned about my baby brother Jonathan. My mother told me he was born too early, and only lived for eight days. This was a shock.

"What did he look like? Did you cry?" A million questions flowed through my mind.

"He was a very cute baby, just like you. And yes, your dad and I cried a lot." The last part came as even more of a shock. I was still at that age when children think their parents are invincible and never, ever cry.

"This is really sad ... sorry." I didn't really know what to say, as has been the case for the past eight years. I was sad for my parents, and even sad for myself, although I didn't exactly realize what it all meant.

My mother saw the look on my face and smoothed a strand of my hair behind my ear. "But you know what? Now you can say you have a little angel in Heaven!" she told me, trying to cheer me up.

"I guess so ... yeah ... I hadn't thought about it that way." And with that, I slid off my mother's lap.

Eight years have passed since that discovery. Sometimes before going to sleep, I find myself wondering about Jonathan. What if he had lived? He would be 13. What would he look like? Probably dark-haired and dark-eyed like the rest of the family. Maybe he would have been a wonderful big brother to Christopher. Or maybe he would have played an instrument, or been into sports. Who knows. Each time I look at a family with three kids, I envision that for our family. I try to picture someone else sitting in the car, or someone else for whom to buy gifts. I can see an extra plate on the dinner table, but I can never imagine the boy eating.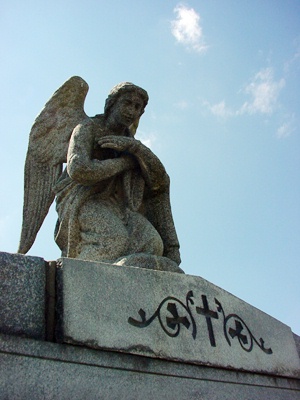 © Anonymous