My Writing
MAG
My writing doesn't have AOL parent controls. To get around the censors on Letterman
he cursed in an obscure foreign language. The entire nation of Bhutan was offended.

My writing leaves his door open. One time, I walked in on him watching porn.
He was embarrassed, more so when I saw it was the Discovery Channel.

My writing claims he is a girl. He wears a dress. I only allow
him to wear it on those days deemed "casual Fridays."

My writing has a love affair with second person. First
person doesn't mind, but third person is jealous.

My writing is inflammable. I found that
bit out when he outlived my lighter.

My writing lets people read his
mind. It's a rather quick read.

My writing never says that he is
suicidal ... I sometimes wish he did.

My writing gets angry when I call him
an object. He makes me sleep on the couch.

My writing asserts that repetition is supposed
to prove a point. He's actually just too lazy to vary.

My writing believes that
With oddly placed indentations
Anything can be poetry.

My writing has identity issues. Sometimes he thinks he's Chuck
Palahniuk, other times Douglas Adams. Right now he is Larry Levis.

My writing often has trouble finding food and drink. "I'm dying of thirst,"
he says. I reply, "Here, have a glass of bleach." Unfortunately, he has no mouth.

My writing can never end.
He just isn't brave enough.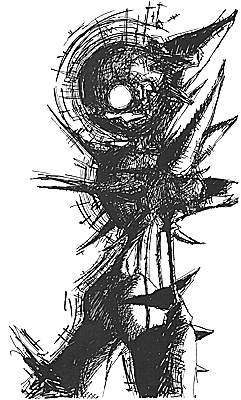 © Anonymous