Guaranteed to Last Forever
MAG
When I hear the word friendship, I instantly have the image of my best friend Beth and me cruising in her mom's car, blaring the radio and going to my house for a night of popcorn, movies and endless fun. I've realized, though, that a friend is not someone you just get along with or grow up with, or hang out with. A friend is someone you love and can't live without. One you would go to the end of the world for, give your life for, who makes your life worth living. Friendship is an everlasting relationship that is recognized and treasured in a heart forever.

I am the oldest of five children. When I was younger, I was Daddy's little girl and Mommy's princess. My parents absolutely adored me. While my dad worked, my mom and I would stay home and play or watch "Sesame Street." A few years later, I had two brothers and two sisters and my time with my mother became less and less. I was growing up, and it was hard for her to spend time with me since each child required attention.

Now I'm 16. The transition to high school was the toughest challenge of my life. With new classes and teachers, sports, activities, a boyfriend and a job, life has become strenuous. But it seems no matter what the situation, my mom is always there to help me get through it.

Last year, my boyfriend of three years enlisted in the Marine Corps. When he left for boot camp thousands of miles away, I was devastated. All I wanted was to spend lonely, quiet nights in my bed and cry myself to sleep until he returned. Everyone told me that our relationship wouldn't make it.

There was no hope for me and my Marine. Only my mom was encouraging. She explained that we could be together forever if that was what we wanted. She said that dreams can come true, and if something is meant to be, it will be.

Being a teenager is definitely hard. It's probably one of the best and worst times of your life. I never realized it before, but the one person who has always been there for me, through thick and thin, has been my mom. She's one of the coolest people I know. Mothers and daughters would be privileged to have the relationship we do. If there is a party I wasn't invited to, my mother will rent a chick-flick, order pizza, throw popcorn in the microwave and snuggle on the couch to ease my pain. She was a teenager too, and understands what I'm going through.

I feel like I can talk to her about anything. She gives great advice and not only is she there to listen, she isn't afraid to offer her opinion. She's very honest and truthful, and a lot of times, the truth is what I need to hear.

Too many of us want to be loved by everyone and will change our thoughts, lives and appearances just to please the one we are with. As we grow, we realize who's real and who isn't. We begin to see the good and the bad in others. I consider my mom a great person. She's a wonderful wife, loving mother, hard worker and incredible individual. She's easy to get along with, and wants as much out of life as it has to offer. My mom appreciates and respects everyone. She is extraordinary.

Last spring, not long after my boyfriend left, my mom surprised me with two plane tickets to New York City. I was ecstatic. I had dreamed of going there all my life. We would spend a week in the big city, just the two of us.

The city was incredible. We walked the streets late at night when they were lit up, saw a number of magnificent shows, visited museums and ate at many restaurants and cafés. We rode the subway to see Ground Zero and took a trip through Chinatown. My favorite experience, though, happened the night before we flew home.

We had just exited the Waldorf-Astoria for a midnight walk when we heard shouting. Curious, we rounded the corner and were blinded by massive lights and thunderous voices. As we approached the crowd, my mother pulled aside a man holding a cup of coffee.

"What's going on? Where did all these people come from?" she asked.

"Well, ma'am, you and your friend are standing on a set for 'Spiderman 2.' We're shooting a scene right up there," the man answered, pointing to the top of the hotel.

We looked up. Could this be true? A scene from the Spiderman sequel was being filmed right before our eyes? Then the man asked, "Has either of you heard of Toby Maguire or Kirsten Dunst?"

My jaw dropped to the ground. Was he joking? My mother and I stood on that street for the next four hours, watching. I never got to meet Toby or Kirsten, but I watched them. I was surprised that there was not more security.

Even though we did not meet the stars, my mom and I did take a picture with Toby Maguire's stunt double. He looked exactly like Toby! This was truly a brilliant ending to a spectacular adventure.

My mother and I had grown apart over the years, but this trip, along with others, have brought us back together. We had seven days of just us, which made me realize that my mom is not just my mom, but also my best friend. No one can ever take her spot. She is a remarkable woman I cannot live without. She created me and part of her will always be inside me. Words cannot say how proud I am of her and how lucky I feel. She has made me realize that a friendship between a mother and daughter is one that is guaranteed to last forever.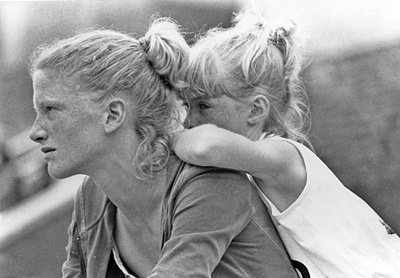 © Anonymous