Butterfly dreams
November 4, 2008
"Patina Jones! Get out of that bed this instant!" She rolled over slightly, pressing her bare back to the cold sheets. Blindly she stumbled to the small bathroom, shared with three siblings. Glanceing in the mirror, she saw a pretty girl with coffe skin and green eyes. Goddess is what her mother always called her, and almost every boy too. Running a brush through her cream colored hair, she glanced at the clock 8:15, time to leave.

Once at school she ran strait to the arms of Jude, her geeky, yet cute boyfriend.

Her curly hair brushed the tips of his eye lashes and she smiled.

Math droned on causeing her to day-dream extencively, about everything, from her mother to her brand of toothpaste.

She missed her mother, sometimes she dreamed of her but only on occasion.
mostly she dreamed of Jude, his shaggy black hair and glittering violet eyes.

she had started dateing him summer to ninth grade and here they were three years later stll going strong.
He had even preposed to her one starry night under the oak tree, but she refused and only stared ahead.
She couldnt for two reasons one they were so young and also the other was beacuse the day she turned eighteen she was going to be taken away.
She was to have the same fate as her mother, taken for tests and operations. Because just like her mother Patina was HIV positive, which ment a world of hell.

sometimes she drempt of sprouting butterfly wings and flying away...
love kept her alfoat...
and her friends who watched her leave were crushed...
but the still feel her first kiss butterflies... and they can still see her funny hair and her beautiful skin,
and every time Jude smiles you know he is thinking of her and of the time they had together.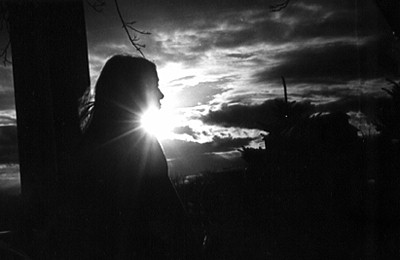 © Elizabeth G., Marblehead, MA