My Story: My Life: My Sister
October 2, 2008
Growing up, Mom always told me that I had an older sister. She was Ariel 's (my father) first daughter, from his first marriage. They divorced before my sister, Arielisse Nicole, was born. Her mom moved to New York and gave birth. Our father went to New York to see her, six months after her birth day. He came back to Puerto Rico but didn't bother himself to keep in contact.

I don't remember my parents ever being together. I lost contact with Ariel, mostly because he broke the connection, Every few years he'd reenter my life but it wasn't long before he disappeared. On one of those reappearances he told me that he had remarried and had had another daughter, Marieli.

If it wasn't for Mom, I would've never known about Arielisse. As I grew older so did my curiosity. One day after school I came to my Grandma's, my two cousins and my new baby sister were there, because Grandma takes care of us until our parents get off work.. I was talking to my 8-year-old cousin, Amanda, who's like a sister to me, when an idea hit me.

I grabbed the phone book and started rummaging through its pages. Both my father and his ex-wife were from Arecibo, Puerto Rico. And Mom told me her name was Q. She also knew my sister's full name and her birth date, something Ariel didn't know. With only this information I started calling every Q. listed in Arecibo, which wasn't hard since only four people were listed. The first to people didn't pick up the phone. Amanda was on one phone and I was listening on the other. I was wanted her to talk. For me it was too nerve wracking. The third phone we dialed was Isabel. Amanda said, "hello" and asked her if she knew any Carmen Q. Meanwhile, I was biting my nails and jumping up and down. I held my breath and my heart skipped a beat but when she revealed her answer I jumped in the conversation.


- "What relation do you have with her?" I asked her.


- "Why? Who wants to know?"


- "Do you remember her ex-husband, Ariel"? I asked her.


- "Yes," was her answer.


- "Ok. Well, I'm his daughter, Leira . I know he had a daughter


with Carmen, which makes her my sister," I talked so fast that at the end


of the sentence I was
breathless. "I'd like to meet her. Maybe you have a


phone number you could give me…"


- "Ummm, my mom has to call them tonight, give me your phone number


and I'll tell her you called."

The hours passed slowly. I felt dinosaurs in my stomach. Finally, around 8 o'clock, Mom came to my room, excitement jumping off of her skin. It was Arielisse, returning my call. I wanted to cry, I wanted to laugh, I wanted to scream! For hours we talked, almost everyday.

Two years after getting to know each other through phone calls, I took a trip to New Jersey. Everyone in my family went to Florida except my cousin, and best friend, Paloma and me. Everyone thought I was crazy. Who declines a trip to Disney? A person who's been there on various times and has something better waiting for her elsewhere. Even though my sister live in New York, the closest I could get to her was to stay in New Jersey with Paloma's relatives.

When she came in through the door my stomach clenched, I held my breath, and was apprehensively giggling. We hug, took lots of pictures and spent the whole day together. Saying good-bye was hard. Especially since we didn't know when we would meet again. We're still in contact. Right know we are trying to get in contact with our little sister, Marieli. This is going to be hard because she lives with Ariel. She's just 8-years-old and doesn't understand that Arielisse's and my relationship with her father isn't easy.

*Some names have been changed.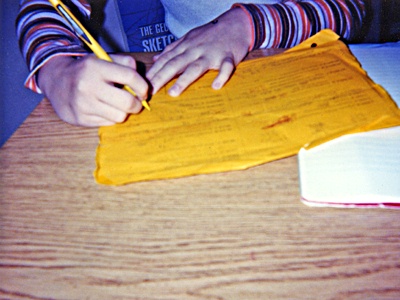 © April R., Highland Village, TX