JUST ANOTHER DAY
May 27, 2013
The clanking of her vessel was nothing if not musical to her ears. With the rhythmic beats of the serving spoon on the 'kadhai', she hummed a song from her memory, a song no one could really recognize due its wobbly pitch and hushed volume. She added things to her cooking pot, meticulously, almost to perfection. A pinch of salt, a spoon of turmeric, followed by some ginger and garlic, freshly flattened to paste on a rectangular rock, by circular one. Then went in the aubergines, two of them to be exact. The two dozen bangles, moving in smooth tune, danced on her wrists in a calm crescendo. Drops of water trickled down from her intricately designed palms, still reclaiming the signs of her recent happy marriage. She stood in a square roomed, cell-like structure. Behind her lay a cot, easy to fit a man and a child, well arranged and crease-less. The walls bore water marks, in undulated dark circles, giving a feel of unfathomable life to them. While the aromas of the spices rose from her pace of being, there came the thuds on her creaking door. And lest assured, the door did creak, loud and clear, as she opened it to welcome her man with a warm smile. He reciprocated, while walking towards a store-room, currently a make shift bathroom, to wash his day's dust and sand, the symbols of his daily hardwork, to come and sit on the floor to eat.
And they both ate that day, like every day, quietly appreciating each other, complimenting each other, just like the two morsels of rice on their plates perfectly accompanied the aubergines.

The opening of the door-knob echoed through the house, thanks to lack of things within it. She walked into her room, tired and exhausted from her satisfying day's work. Opening the balcony door, she noticed the sun-setting right behind the visibly lit cross of the church, nearby, creating a perfect halo around the totemic structure. It gave her pleasure, noticing such insignificant, never-remaining happenings, as though these random connections were the only decisive imaginations she could have. She walked back into her room, throwing her black and grey stole on her low-lying bed, while the wind-chime played its soft music to her soothing ears. And after weeks of missing out on it, she opened her tiny cupboard, to inhale the smell of books- old, new, middle-aged-books. She hadn't flipped through the pages of many in a long time, courtesy her leaving home before sun-rise and reaching back while it was pitch dark. But now was the time, she would read, even with the little hors she had in hand to leisure, she would read. She entered the kitchen, scurrying for rescue for her grumbling stomach, only to find a rotting packet of biscuits and a day old dal that her roommate had cooked and forgotten to eat. With her tummy, still begging for help, she walked back into her room, dragging the curtains of her window on either side to let the light pour in, placing herself on the bean bag at the balcony door, opening her half read book, to enter a world that no one else was permitted into.

The table by the window was never to be eulogised. Not because it wasn't worthy of it, because it didn't need it. This was her place. Her chair diagonally facing the glass windows, so clearly letting the world speed by opposite to it, yet protecting her from the very same. The tea pot was placed neatly along with triangular napkins next to her elbow, in the fear of being pushed down any moment. The steam rose from the cup, reminding her to drink it before the winds made it cold. And aware of all this, she wrote- relentlessly- her book on her right leg, folded on her left, her pen scribbling down, scratching, replacing words, as though it was her private game- words and I- she would have called it, if anyone could read her mind. The noise of the huge hall, half-filled with people, only helped her to imagine more- write more. Her thoughts stimulated, confusions about lines, words, punctuations, amalgamating to form a delusional state, making her feel happy- almost elated and high at her confused states. And that is how she wrote. Confused, unclear, unsorted. Her pen flowed down the blank sheets of paper.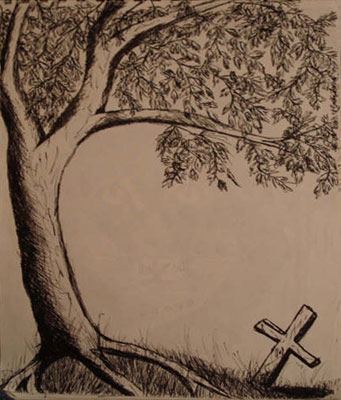 © Courtney K., Bethel Park, PA