Which Bit to Use?
October 22, 2012
I remember many a time when a horse got away from me because I didn't have full control of its mouth. One particular instance stands out in my mind. I was riding a horse that was soft in the mouth, rode well in a short shanked snaffle, and listened attentively. On this one particular day however, she was dead set against anything asked of her. After several hot sweaty hours of work I resorted to changing her short shanked bit for one that was larger and longer thinking I could use the extra leverage on her mouth to get her to listen. How very wrong I was. The moment I added any pressure to the reins she would tuck her head between her knees and buck. My frustration grew until I buckled down and forced her to a stop. At a loss I dismounted and went to go talk to my trainer. Upon hearing my predicament he shook his head and handed me a loose ring snaffle bit. "Go back to the basics," he told me as I looked at the soft training bit. At the time I didn't think it would work but I tried anyway. Suddenly something clicked and my stubborn mare was surrendering her whole body to me. Going back to my trainer, I asked for an explanation.

"When a trained horse goes hard in the mouth it's because they are willingly disobeying. You chose to try to force her to listen by finding the biggest and harshest bit but that only fed the fire. She began to react to the pain and disobeyed even farther. When you hit a road block, go back to the basics and take little steps like you did with the snaffle bit. It was soft and easy for her to understand and so she gave herself up. Remember if you can't control their head then you can't control their mind or body," he had told me.

This reminds me of what God say's about our tongues in James 3:2-3 'For in many things we offend all . If any man offends not in word, the same is a perfect man, and able also to bridle the whole body. Behold, we put bits in the horse's mouths, that they may obey us; and we turn about their whole body,' It says in verse two that if a man can control his tongue then he can take control of the rest of his body. Just like a horse's wayward head can cause problems, the things we say can cause a lot of damage, and like horses a person must train their tongue to become submissive. In the next verse James states that like horses our mouths need to be kept in check by a bit. Our 'bit' is God's Word. When we find our tongue running away with us we need to go back to the basics of the Bible just like I have to go back to a training bit with my horse. The simple facts of God's love and grace will help to bring us back under submission and farther examination of God's word will help to remind us the importance of keeping our tongue bridled.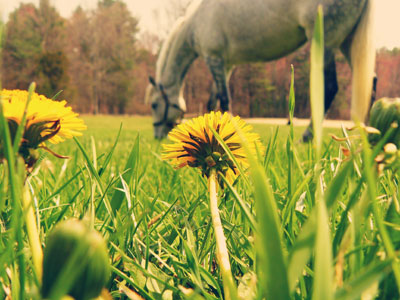 © Madalyn W., Holliston, MA