The Little Girl, the Character, and the Impact
April 14, 2010
Every year in school, I have been forced to read between three and eight novels in English class. Thus far in high school, we have read the traditional Red Badge of Courage and Grapes of Wrath, among others. By now, everyone has heard of SparkNotes, so it is rare that anyone actually reads the text. In elementary school, everyone read the assigned books from cover to cover. I loved reading all of the different books, but I was probably one of the only ones. There was one book in particular that caught my attention: C.S. Lewis's The Lion, the Witch, and the Wardrobe. For a fifth grader, Narnia was a wonderful world full of fairy-tale creatures, amazing adventures, and thousands of possibilities. One aspect of the book particularly caught my eye, and it was not the wicked White Witch or the astonishing Aslan. It was Susan Pevensie, a plain girl like me. The eldest Pevensie girl made such an impression upon me that I have carried her with me every day since reading The Lion, the Witch, and the Wardrobe.

Susan excelled in an area that was generally dominated by men: archery. Soon after the Pevensie children entered Narnia, Susan received her bow and arrows from Father Christmas. In both literary and world history, archers are traditionally men – Legolas from The Lord of the Rings series immediately jumps to mind. For a girl of only twelve to excel in the field was unheard of before the debut of C.S. Lewis's novel. I found that I wanted to experience the sport for myself. With help from my mother, I signed up for classes and spent four rainy Saturdays in an old hunting lodge learning how to shoot. In time, I became an ambidextrous archer and earned my teaching certification. During the summer of 2008, I offered to teach archery to other young girls at our Girl Scout Day Camp in addition to my other volunteer duties. I had more fun than I thought I would, and sincerely hope to teach it again in 2009. I believe that I would not have had such an interest in archery if Susan Pevensie had not implanted the idea into me. She showed me that girls could do anything, even if it was something that was not traditionally a female activity.

Susan broke out of the "typical" female role in another way; she was a leader, not a follower. She had the ability to take over and lead her family whenever Peter could not. Peter Pevensie focused on only one thing – rescuing Edmund from the White Witch. Peter looked at their problem as a whole, and it became Susan's job to solve any of their current problems; the Pevensies escaped from wolves only because Susan urged everyone across a half-frozen river. I have noticed that, like Susan, I am able to step up and become a leader. 2009 will mark my fifth consecutive year as the song leader in our District's aforementioned Girl Scout Day Camp. For years, we never had anyone to tech traditional Girl Scout songs to the Brownies and Juniors (first to fifth graders). Girls my age are embarrassed of their association with Scouting, so we are always short on Program Aides – teenage volunteers who help assist Unit Leaders or head a department like games or crafts. Of those volunteers, no one wanted to sing in front of and audience and few knew the songs anyway. So I stepped up. I dug old songbooks out of the dusty storage area in the back of the Scout House, rewrote the songs that I knew into a book of my own, and practiced every weekend until we began Day Camp. I was nervous, but that was the best year I had ever spent at that camp, and I eventually completed my Silver Project – the second-highest award a Girl Scout can receive – because of it. Like Susan Pevensie, I was a girl who took charge of my own life and helped lead those around me… though I led in song, not in battle.

Susan Pevensie truly had an impact on my life. Through Susan, C.S. Lewis showed young girls everywhere that we could do anything boys could do. Levis provided a realistic role model for young girls – Susan was intelligent, determined, caring, and proved she could take charge of her family. She had flaws, but that was why I could so easily relate to her. Susan Pevensie definitely inspired me to try things that I never would have considered attempting, and I will be eternally grateful to Susan and C.S. Lewis for shaping me into the young woman I am today.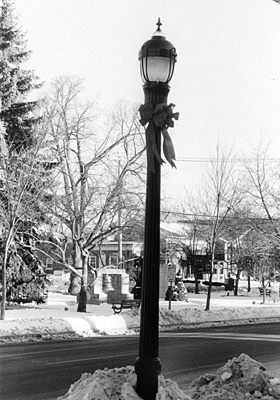 © Geoffrey D., Milford, CT