Emptiness
March 21, 2010
"And guess what he was staring right at me…" I didn't say anything this was the probably the 10th guy story Stacie had told me this week (it was only Wednesday).
My stomach was at my toes as Stacie kept gossiping with Kallie. My mind went to all of the past crushes Stacie has had in the past month lets see there was… Mark, Tyler, Collin, Adam, Jacob, Charlie, Devin, Walter, Luke, and blah blah blah blah. Every guy Stacie might like could be found "staring" at her. Kallie, who I had no feud with, seemed to get some attention from guys also.
For me there was only one. Kevin. A nice, kind, respectful, and Christianly guy (may I just add that he is really HOT). If he knows I exist I'm not sure. Is it because I'm not pretty enough or not his type? Or I hate to think it…to fat. Things every girl feels but I can't help think these things. What about my clothes? Then I question myself on my age. Should it really matter when I am in 7th grade? The problem is it doesn't matter but the hole of emptiness in my stomach is telling me differently. Sitting there ready to pounce on my fragile soul. Like the chill that runs down your spine before a storm, seeping into every part of your body from toes to fingertips. The worst empty feeling is when you spend the whole night wondering "what's wrong with me?" My hole is so big that I find myself daydreaming instead of homework, fantasizing instead of working. A perfect world, the perfect me, but most importantly…the perfect guy. Here I go again I sound boy crazy but I'm really afraid of never being like everyone else as in having a boyfriend.
Emptiness isn't escapable. Emptiness is a permanent feeling once you have it you cant get rid of it. Making a mountain out of a molehill can work well in describing the love lives of middle school girls. A new crush is the molehill but OMG it has to be the center of attention like a mountain. My moment of shear bliss comes when I have the courage to talk to a nice guy but I rarely say anything worrying I might sound stupid. Shortly after I fall back into my hole of emptiness. Sucking me in like a black hole. Deep, dark and the prospect of no return. Emptiness can come anywhere in your life.
This story -I hope- doesn't reflect love or jealousy, but the empty hole when you don't have it. Like a book with no pages or a doorframe with no door. It takes a while to see what's missing but when you do it is impossible to get over.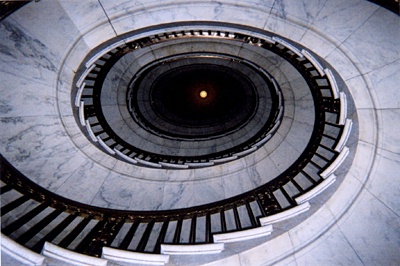 © Kyle T., St. Joseph, MO