Sweet Sixteen Bowls of Food
May 12, 2009
A lot of kids think that their parents interference in their lives will be their undoing. Because of that recently I have been thinking a lot. Sometimes one thought does pop into mind. That thought is that my mommy and daddy hate me… but they really don't. they really do love me but sometimes they just do not like me. But there was one day very recently that they loved and liked me more than I could ever imagine.
My parents and I don't really hate each other. It's just sometimes we just cant stand each other! But still... A lot of the time we are actually on pretty good terms with each other. But sometimes they just get on my nerves and I feel as if I need to stand up to them and defend my pride. A lot of the time we really do like each other and we get along pretty well. Sometimes we are actually quite cordial to each other. We all do honestly love each other but sometimes we don't like each other at all. That is how the fights start… with us not liking each other. It begins with a comment here or a mumble there and then BOOM! It all explodes out of proportion and then the true fight begins. My parents don't really hate me I guess… it might just be…. No, it probably is just because I tend to be a b**ch quite a bit of the time. I think it may be because I am to too much like my mom (or so I hope) and that I'm too stubborn and way too opinionated… as I sit here in class with my horrible headache throbbing I begin to write my story… funny thing is I am sitting in business law class and we are going through the notes for some stupid section and I'm not even allowed to have my screen on so I don't even know if this will turn out right because I may be writing this quite a bit of the time I will probably be writing like this. I feel horrible about telling this story but I need to write it and I feel that it needs to be told. I need to let people who have my kind of life know that there is worse out there and that people like me actually have it pretty well, believe it or not. I am beginning to write this story on Monday the eleventh of may in the year of 2009… it is four days after my 16th birthday. As it probably is in most households, or so I assume (but for me to assume is probably a bad idea, my mommy used to tell me "to assume makes an a** out of you and me.") my mommy buys most everything and does all the shopping, my daddy's name is normally just kind of put on the card and mentioned after hers. Anyway, for my sweet sixteen from my mommy I received a sterling silver charm bracelet with a heart charm that is engraved with "Love Forever Mommy." From my mommy and daddy I received a gold ring with three hearts on it and the center heart is made up of many little diamonds. Both of these I am wearing at this very moment. From my little brothers I got a sterling silver bookmark that was topped with a pretty little flower that had some fake gems on it. I plan to later on get my name engraved into the shiny bookmark that at this moment is sitting at home on my dresser right next to some of my other gifts. The other gifts are my books that I got from my soul sister, Alexa, and my wooden box that has been made into a tic tac toe game to be played with marbles (I am yet to acquire the marbles).
My family consists of myself, my mommy, my daddy, my two little brothers Cameron and Jacob, my secondary mother Debbie, my secondary father Big Kraig, my soul sister Alexa, and her little brother little Kraig. For my birthday we all went to Mongolian Barbeque (I simply love to eat and they have all you can eat for only like $12!) and boy, that was an interesting dinner! The guy who cooked my food was totally hot and I guess I did kind of flirt with him. But man! He was cute! Anyway, I ended up eating three bowls of stir-fry and something at least semi interesting happened to me. My first trip up to the grill we had all gone up at the same time and everyone got to tell the grillers embarrassing stories about me and then the grillers rang the gong and made everyone shout out "Happy Birthday" to me. My next trip up the really cute guy brought out some aluminum foil and I instantly thought "oh no, this is not going to end well" and I would have left but my food was still on the grill. I ended up getting a hat that had giant bunny ears on it and I was not allowed to take it off until I got home. My third trip up to the grill Alexa came up just to call me "Little Bunny Foo Foo" and then that got all the grillers singing that stupid song. So I guess that in my case... my mother's love was my undoing. Well, that and my incredible love and obsession with food!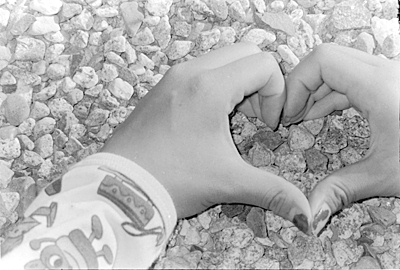 © Caitlin T., Marblehead, MA